Da se čalabrcne 021 food delivery Novi Sad
Bulevar Cara Lazara 88, Novi Sad
Restaurant is open 22:00
Grill, Gyros, Sandwiches
Da se čalabrcne 021 food delivery Novi Sad
▼ EXPAND ALL
▲ COLLAPSE ALL
Grill kg
Grill meat
Kebabs, pljeskavitsa, stuffed gourmet pljeskavitsa, sausages. If you only want one or something to eject from the offer, please emphasize in the note.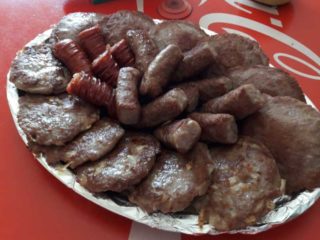 Chicken breasts and drumstick
Grill
Chicken
Gyros
Little giros
100g meat and 60g French fries.
Sandwiches
Sandwich kulen
Sandwich da se calabrcne
Pechenitsa, ham, kulen, cheese.
Salad meals
Meal salad with chicken white
Other
Želite da čalabrcnete? Ili da se natenane počastite kvalitetnim roštiljem? Šta god odlučili, mi Vam svakako preporučujemo da uživate u svakom zalogaju!
Roštilj Da se čalabrcne 021 u svojoj ponudi ima odlično roštilj meso od koga pripremaju pljeskavice, ćevape, gurmanske pljeskavice i ostale specijalitete sa roštilja poput belog mesa, vešalica, pilećeg bataka. Na Vama je samo da odlučite šta želite. Ipak, ako i odlučite da čalabrcnete, onda Vam preporučuju sendviče i girose.
Ono što posebno ističu jeste Oval mešanog mesa i roštilj na kilogram ili pola kilograma, naravno ukoliko niste previše gladni. Svakako izbora imate, bilo da želite sami da se počastite ili ugostite prijatelje na ručku ili večeri.
Zato brzo na meni, 'spakujte' u korpu željenu hranu i uz malo strpljenja dostava najboljeg roštilja u Novom Sadu i u Vašem domu.
Prijatno!
×
If your location is not listed, please choose another restaurant.
×
Da se čalabrcne 021