| | | |
| --- | --- | --- |
| Working hours | Delivery | Takeaway |
| Monday | 09:00 until 22:30 | 09:00 until 22:30 |
| Tuesday | 09:00 until 22:30 | 09:00 until 22:30 |
| Wednesday | 09:00 until 22:30 | 09:00 until 22:30 |
| Thursday | 09:00 until 22:30 | 09:00 until 22:30 |
| Friday | 09:00 until 22:30 | 09:00 until 22:30 |
| Saturday | 10:00 until 22:30 | 12:00 until 22:30 |
| Sunday | closed | closed |
▼ EXPAND ALL
▲ COLLAPSE ALL
Real thing
Viennese steak meal
Bun, mayonnaise, cabbage, French fries
Fried chicken meal
Bun, mayonnaise, cabbage, French fries   
Bum steak meal
Pork fillet stuffed with cheese and ham, French fries     
Alpine chicken meal
Fillet stuffed with mushrooms and kajmak, bun, French fries    
Chicken with sesame meal
Bun, mayonnaise, cabbage, French fries
Breaded vegetables
Bun, mayonnaise or sour cream
Buns
Uzicka complete bun with kulen
Roasted pork melt, egg, kaymak, kulen  
Bun with roasted pork melt
Aphrodisiac bun
Kaymak, prosciutto, tomato, bun  
Bun with kaymak, prosciutto and ayvar
Viennese steak - bun
Bun, mayonnaise or sour cream, cabbage
Karadjordjes pork steak - bun
Bun, mayonnaise or sour cream, cabbage
Karađorđes chicken steak - bun
Bun, mayonnaise or sour cream, cabbage
Chicken with sesame - bun
Bun, mayonnaise or sour cream, cabbage
Fried chicken - bun
Bun, mayonnaise or sour cream, cabbage
Fried cheese - bun
Bun, mayonnaise or sour cream, lettuce
Pizza
40 cm
Vesuvio
Peeled tomato, ham, cheese  
Pizza Funghi
Peeled tomato, mushrooms, cheese    
Pepperoni
Peeled tomato, cheese, kulen, kaymak, pepperoni    
Pizza Prosciutto
Peeled tomato, prosciutto, cheese, kaymak, egg      
Quattro stagione
Peeled tomato, cheese, prosciutto, tuna, kulen, ham  
Breakfast and sandwiches
Goliyski breakfast
Fried eggs, prosciutto, cheese, bun    
Mountain breakfast
Bun, kajmak, prosciutto, ajvar, cheese
Toast sandwich
Toast bread, margarine, ham, trappist    
Student sandwich
Bun, ham, margarine, lettuce      
Sandwich with kulen
Mayonnaise, tomato, kulen      
Sandwich with pechenitza
Cucumber, sour cream, pechenitza      
Sandwich with beef
Mayonnaise, smoked beef, pickles  
Club sandwich
Grilled chicken, pancetta, lettuce, tomato, egg  
Bavarese sandwich
Peanut butter, proscuitto, tomato  
Salads
350 grams
Greek salad
Lettuce, cucumber, tomato, pepper, feta cheese, olives, salt  
Vitaminic salad
Carrot, tomato, apple, целерз, cucumber, cabbage, lettuce, mustard and honey dressing  
Alla donna
Farfalle, lettuce, ham, cheese, marinated mushrooms, tomato, sour cream, mayonnaise, salt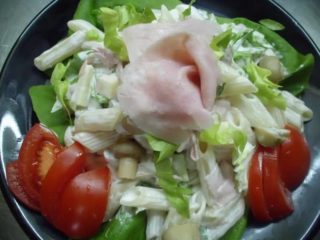 Caesar salad
Lettuce, dressing, croutons, bacon, chicken, parmesan  
Sweet crepes
35 cm
Crepe cherry
White cream, cherry, chocolate      
Crepe Aphrodisiac
Nutella, honey, walnuts, chocolate topping    
Cocoudu Crepe
White cream, coconut, whipped cream  
Romansa
White cream, coconut, whipped cream, chocholate
Savory crepes
35 cm
Fried crepe egg, cheese, pechenitza
Fried crepe ketchup, cheese, ham, mushrooms
Fried crepe cheese, ham, rocket
Crepe cheese, ham, sour cream
Crepe cheese, ham, kulen, kaymak
Crepe cheese, ham, prosciuto, kaymak
Crepe with rocket
Cream, cheese, ham, proschiuto
Soft drinks
Coca Cola
* it is not included in minimum
Fanta
* it is not included in minimum
Nestea peach
* it is not included in minimum
Kažu da je priprodni afrodizijak najbolji, a ono što je zdravo između ostalog unosimo u organizam kroz hranu. Da bi se zdravo hranili, najkvalitetnijim namirnicama iz domaće radinosti i to iz ivanjičkog kraja, pobrinula se dostava Afrodizijak.

Afrodizijak dostava nalazi se na Vračaru. A dostavu za Vas vrše svakog dana od 09h do 22:30h odnosno subotom od 10h, osim nedeljom. Hranu možete poručiti i ranije. Zakažite vreme u koje želite da Vam bude dostavljena na željenu adresu, sačekajte povratnu informaciju i uživajte u dobrom obroku!

U okviru menija je zaista raznovrsna ponuda, od kompletnih obroka, čuvenih užičkih lepinja sa kajmakom, pretopom, pršutommm....., pica, salata, slanih običnih ili pohovanih i posebno hvaljenih slatkih palačinki. Niste probali? Pa šta čekate?!

Na osnovu svega zaključujete da dostava Afrodizijak ima kompletnu ponudu za sve one koji uživaju u dobroj hrani. Vrlo lako možete poručiti online putem jer dostava hrane na kućnu adresu nikada nije bila lakša i jednostavnija. Na Vama je samo da uživate u istoj.

Prijatno!
×
If your location is not listed, please choose another restaurant.
×
Afrodizijak dostava
Choose a restaurant
When you select your location, you will see a list of restaurants which deliver food in your area with appropriate minimum amounts and costs of delivery.
Order food online
Choose a restaurant by cuisine or minimum amount. Add to cart your favorite food and write as your special requests. Enter your address so the deliverer can find you easily.
Food is delivered, enjoy!
After submitting the order, you will see the estimated delivery time. Enjoy your food and write a review!
2020. © Alideda All rights reserved.