Aligator Bar food delivery Belgrade

Savski nasip BB

Delivery: 09:00-23:00

Takeaway: 09:00-23:00

POS

Online

Delivery

Takeaway
Breakfast 9:00-13:00h
Predjela
Appetizers plate
Prosciutto, kulen, panchetta, feta cheese, cracklings, cheddar, cheese, olives.
↗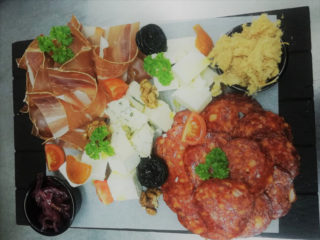 Main course
Baked gnocchi in tomato sauce
Gnocchi, mozzarella, permesan, basil.
Craft burger
250g. Cheddar cheese, bacon, cream, onion, focaccia.
Aligator mix for 4 persons
Sausage with cheese, thin hot sausage, ribs, chicken wings, fried chicken sticks, french fries, lettuce mix.
↗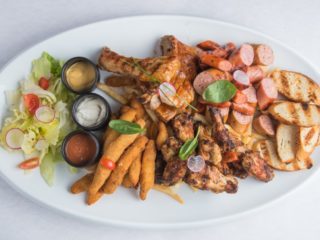 Salmon with vegetables
Salmon 200g, peas, zucchini, broccoli, potatoes.
Chicken caprese
Chicken, mozzarella, tomato, pesto genovese.
Beef Saslik
Beef skewers, mashed potatoes, peppers, onions.
Chopped pork
Homemade tortilla, pork, sour cream, horseradish.
Sandwiches
Sausages
Beef piquant sausage
Wedges potatoes, salad, mustard.
Trio sausages
Sausage with cheese, beef and thin hot sausages, mustard, bread.
Pizza
Size is 32cm.
Pizza with vegetables
Mushrooms, olives, zucchini, onions, peppers.
Meal salad
About 350g.
Ramsteak salad
Lettuce mix, cherry tomato, parmesan, ramsteak, dressing.
Tuna salad
Fasting. Komadi tunjevine, miks zelenih salata, masline, kukuruz, čeri.
Salmon salad
Fasting. Salmon 100g, orange, mixed salad, walnuts, cherries, rocket, tomato.
Salads
Additions
French fries portion
250g. Fried potato slices with spices.
Wedges portion
250g. Fried potato slices with spices.
Bun
Homemade mixed bread.
Olives portion
150g. Ostened olives in marinade.
Focaccia
Bread, oil, spices.
Other
Nuts appetizer
Almonds, hazelnuts, walnuts, peanuts. 150g.
Desserts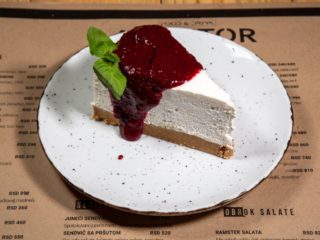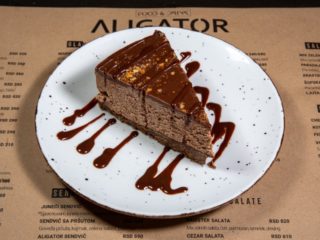 Pizza, Grill, Breakfast, Healthy food, Chicken, Burgers, Sandwiches, Fried food, Desserts
Restaurant address:
Savski nasip BB, Belgrade
Delivery 09:00 until 23:00
Takeaway 09:00 until 23:00
| | | |
| --- | --- | --- |
| Working hours | Delivery | Takeaway |
| Monday | 09:00 until 23:00 | 09:00 until 23:00 |
| Tuesday | 09:00 until 23:00 | 09:00 until 23:00 |
| Wednesday | 09:00 until 23:00 | 09:00 until 23:00 |
| Thursday | 09:00 until 23:00 | 09:00 until 23:00 |
| Friday | 09:00 until 23:00 | 09:00 until 23:00 |
| Saturday | 13:00 until 23:00 | 13:00 until 23:00 |
| Sunday | 13:00 until 23:00 | 13:00 until 23:00 |
×
Aligator Bar

Enter address for delivery
NEW - Login witn your phone number
Login with your email
Connect with