Online payment
takeaway
45 min.
Pizza, Pasta, Breakfast, Crepes, Italian food, Chicken, Sandwiches, Restaurants, Desserts, Internacional cuisine
Delivery 10:00 until 22:45
Takeaway 10:00 until 22:45
| | | |
| --- | --- | --- |
| Working hours | Delivery | Takeaway |
| Monday | 10:00 until 22:45 | 10:00 until 22:45 |
| Tuesday | 10:00 until 22:45 | 10:00 until 22:45 |
| Wednesday | 10:00 until 22:45 | 10:00 until 22:45 |
| Thursday | 10:00 until 22:45 | 10:00 until 22:45 |
| Friday | 10:00 until 22:45 | 10:00 until 22:45 |
| Saturday | 10:00 until 22:45 | 10:00 until 22:45 |
| Sunday | 10:00 until 22:45 | 10:00 until 22:45 |
Breakfast
Breakfast can ordered until 01:00PM.
Omelette cheese, ham, feta cheese
Omelette cheese, pechenitza, feta cheese
Starters
Bruschetti with garlic, tomato and olive oil
Bruschetti with tuna, garlic and rocket
Bruschetti with prosciutto, cheese and rocket
Cheese plate
150g. Parmegiano reggiano, smoked cheese, cheese with noble molds, served on rocket salad.
Andrea Mia plate
160g. Njegosh prosciutto, uzichki prosciutto, parmigiano reggiano, smoked cheese, buns.
Sandwiches
Tuna sandwich
Fasting. Tuna, salad, fasting mayonnaise.
Tortilla, cheese, pechenitza, kulen, pesto sauce, salad
Pasta
Pasta broccolli, ham, neutral cream, parmesan
Pizza
Fruit pizza
Hawai pizza
Peeled tomato, edamer, pineapple, ham.
Extra Hawai pizza
Peeled tomato, edamer, pineapple, prawns.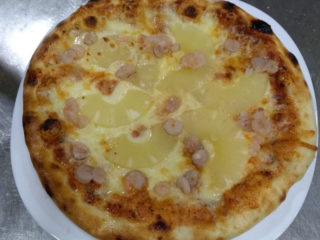 Tropicana pizza
Peeled tomato, edamer, pineapple, banana, cinnamon, curry.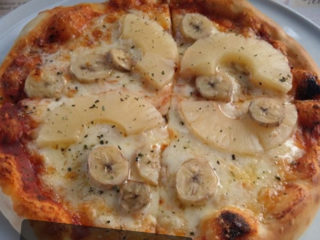 Meat meals
Soups
Salads
Rocket salad with parmesan, cherry and walnuts
Savory pancakes
Desserts
Pancakes is 2 in portion.
Pancakes nutella, plazma cakes
Pancakes nutella, plazma cakes, vanilla cream
Banana split
Ice cream, banana, whipped cream.
Jaffolina sweet pizza
Sweet pizza with jaffa crunch cream and orange.
Fruit salad
Seasonal fruit, whipped cream.
Andrea Mia splav nalazi se na Savi na Novom Beogradu. Andrea Mia jelovnik Vam omogućava izbor raznih italijanskih testenina, pizza, salata i jela od mesa, koje su prilagodili našem podneblju i senzibilitetu sa samo par detalja.
Andrea Mia meni može svašta da Vam ponudi, za doručak omlet kačkavalj, slanina, feta, kao predjelo bruschetti sa tunjevinom, belim lukom I rukolom ili tanjir Andrea Mia na kome je njeguški pršut, užički pršut, parmigiano reggiano, dimljeni kačkavalj, lepinje.
Probajte Andrea Mia sendvič sa kačkavaljem, šunkom, pršutom, pavlakom, majonezom i salatom, Palermo picu sa pelatom, edamerom, pečenicom, šunkom, pečurkama, jajetom i feferonama sva hrana je pripremljena sa svežim i kvalitetnim namirnicama. Andrea Mia slatke pice su nešto što morate probati možete birati između Hawai pice i Tropicana pice. Ako Vas zanima šta jos to u ponudi ima Andrea Mia restoran i u čemu možete uživati poručite.
Andrea Mia dostava hrane Vam omogućava da uživate u njihovoj hrani bilo da ste kod kuće ili u kancelariji za samo par klikova. Uz Andrea Mia meni online možete lakse da se odlučite šta želite da poručite, a Andrea Mia dostava će Vam isporučiti u najkraćem roku ili u zakazano vreme. Andrea Mia radno vreme je svakoga dana od 10 do 22:30.
×
If your location is not listed, please choose another restaurant.
rsd
×
Andrea Mia
Choose a restaurant
When you select your location, you will see a list of restaurants which deliver food in your area with appropriate minimum amounts and costs of delivery.
Order food online
Choose a restaurant by cuisine or minimum amount. Add to cart your favorite food and write as your special requests. Enter your address so the deliverer can find you easily.
Food is delivered, enjoy!
After submitting the order, you will see the estimated delivery time. Enjoy your food and write a review!
For restaurants
List your restaurant on this portal FOR FREE. Alideda creates websites for food delivery, provides the ordering system for your websites or Facebook pages, takes care about your marketing campaigns. Call us!
Terms of sale
2020. © Alideda All rights reserved.