Calimero chicken wings food delivery Belgrade
Chicken, Burgers, Desserts
Sremskih odreda 1, Belgrade
0606122200
Delivery 12:00 until 23:00
Takeaway 12:00 until 23:00
SHOW MAP
Enter address for delivery
Chicken wings
Wings weight is for fried wings.
Wings garlic, cashew, basil
Wings with honey and mustard
Wings honey, spicy

Wings honey, spicy sesame

Chicken wings grill BBQ sauce
Wings BBQ, spicy

Wings parmesan, garlic, basil
Calimero box
Weight of servings is the amount of raw chicken.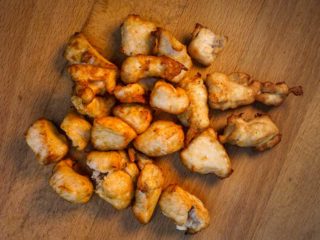 Burgers
Calimero vegetarian burger
Bun, vegetables burger, burger suace, cheese, French fries, iceberg salad, tomato.
Calimero chicken burger
Bun, chicken breasts, burger suace, cheese, French fries, iceberg salad, tomato. ↗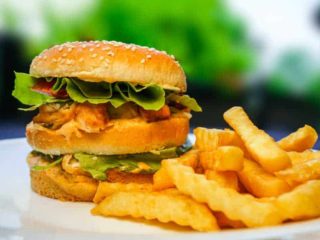 Other
French fries
McCain Fry and Dip French fries
Regular McCain French fries
BBQ Crinkles Vedges McCain
300g BBQ French fries in bbq sauce.
Sauces
Desserts
Želite izvrsna, hrskava krilca koja se tope u ustima? Klasična, dimljena ili sa medom, karijem, bbq sosom, parmezanom i bosiljkom? A da Vam predložimo pileća krilca sa čokoladom? Niste probali?! Šta čekate?
Calimero chicken wings sve to ima u ponudi i mnogo više. Tako da imate dobru preporuku! Bilo da želite nešto da prezalogajite ili razmišljate o tome šta bi danas ručali ili večerali, Calimero pileća krilca spremaju za Vas i donose na kućnu ili željenu adresu.
Obzirom na mogućnost odabira veličine porcije, možete naručiti i više ukusa ukoliko se ne možete odlučiti samo za jedan. Uživanje u dobroj hrani sa omiljenim društvom je uvek dobar izbor. Upravo takva okupljanja možete upotpuniti baš hranom iz Calimera. Pivo i hrskava, sočna krilca su idelana kombinacija, a to ljubitelji piva i te kako znaju.
Dostava pilećih krilaca, burgera, Calimero box piletine, deserta poput čokoladnih krofni ili Nugat pite sa šumskim voćem i ostalih deserta, obavlja se svakodnevno na teritoriji Novog Beograda, Zemuna ali u ostalim delovima grada. Calimero dostava, poznati u svom kraju i kao Calimero krilca Novi Beograd, je uvek spremna.
Prijatno!
×
If your location is not listed, please choose another restaurant.

rsd
×
Calimero chicken wings

Choose your address for delivery
Enter address for delivery
If your address is not listed, click here
Enter address for delivery
Support and phone ordering
0606122200