Castello Bianco food delivery Belgrade
Đorđa Kratovca 43, ulaz iz Vidske, Belgrade
Restaurant is open from 09:00 until 01:00
Pizza, Grill, Pasta, Breakfast, Crepes, Italian food, Chicken, Fish and sea food, Fried food, Alcoholic beverages
Naruči odmah! Pogledajte jelovnik picerije Castello Bianco i naručite kućnu dostavu. Zaboravite kontakt telefone i naručite pizzu online.
▼ EXPAND ALL
▲ COLLAPSE ALL
Pizza
Pizza without cheese and meet
Brick owen baked.
Fasting Funghi
Peeled tomato, vegetable cheese, olives, oregano
Fasting Vegetariana
Peeled tomato, vegetable cheese, mushrooms,cherry tomato, rocket, olives, oregano.
Fasting Tonno
Peeled tomato, vegetable cheese, tuna, mushrooms, corn, onion, olives, lemon, oregano
Pasta
500g. Choice of pasta: penne, spaghetti or fusilli. For the stuffing: ravioli, tortellini and gnocchi (write in note).
Funghi
Mushrooms in fine cream sauce, parmesan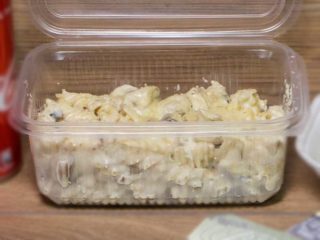 Arabiata
Tomatoes, paprika, onions, zucchini, pepperoni, chili tomato sauce, parmesan
Spinachio
Spinach in a fine cream sauce, garlic, gouda, parmesan, spices
Bologneze
Mixed minced meat in red wine and tomato sauce
Carbonara
Grilled pancetta in fine sauce with cream sauce, egg, parmesan
Quattro Formaggio
Smoked cheese, gorgonzola, parmesan, cheese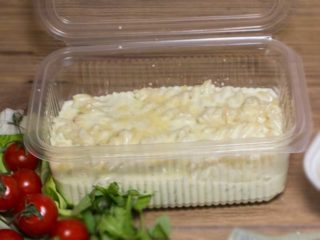 Frutti Di Mare
Seafood on white wine in tomato sauce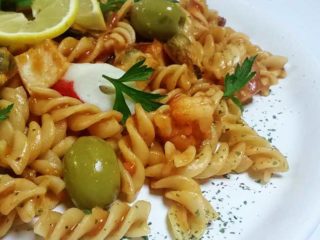 Pesto Genovese Di Polo
Chicken, neutral cream, pesto sauce, basil, parmesan
Quattro Formagio Di Polo
Chicken, 4 kinds of cheese, spices
Castello Bianco pasta
Grilled chicken, pacetta, prosciutto, mushrooms, olives, basil, cream sauce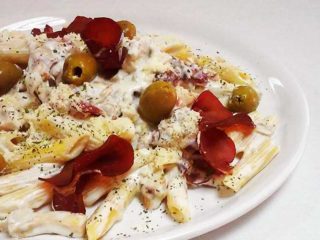 Lasagne
600g Bolognese sauce, bechamel sauce, cheese, parmesan
Breakfast
Addition for every breakfast: feta, tomato, sour cream, cheese, yogourth and bun for omeletes.
Meals
400g-500g With every meal freshly baked bread, Greek salad, fries.
Grilled stuffed mushrooms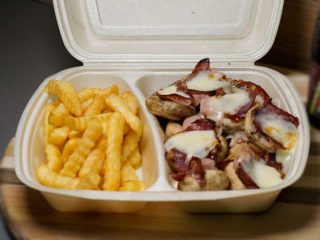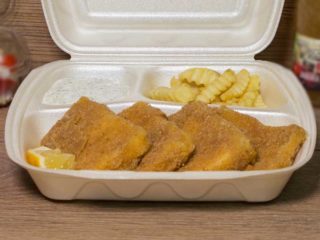 Italian meal
Grilled chicken, grilled vegetables
Fried chicken
Chicken, tartar sauce, French fries, lemon
Fried chicken breast in sesame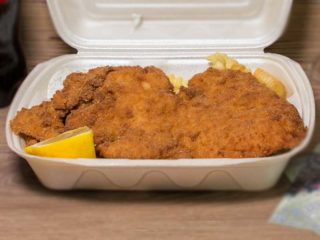 Karadjordjes steak
Cheese, ham, tartar sauce, lemon
Sweet-salty sauce
770 rsd
Chicken in gorgonzola with cashew
Chicken, gorgonzola, cashew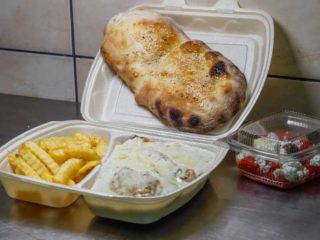 Rolled stuffed chicken
Smoked cheese, rocket, paprika, pancetta, mushrooms sauce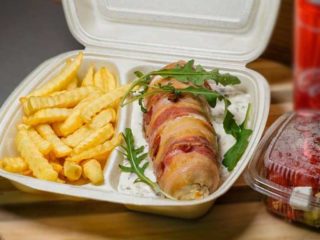 Chicken Cheese
Chicken in a sauce of 4 kinds of cheese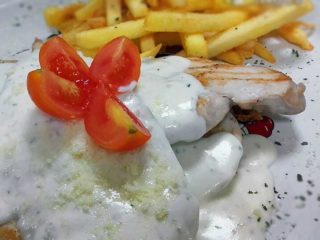 Smoked turkey drumstick in spinach sauce
Grill
400g-500g With every meal freshly baked bread, Greek salad, fries.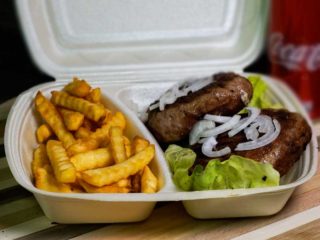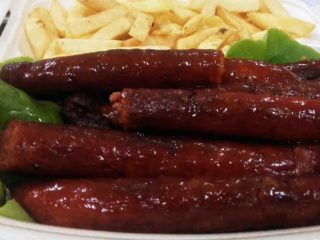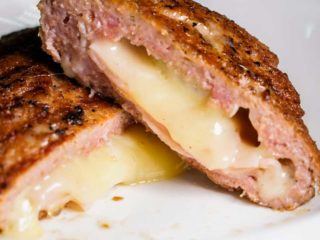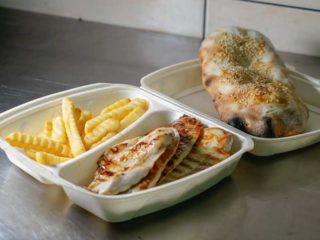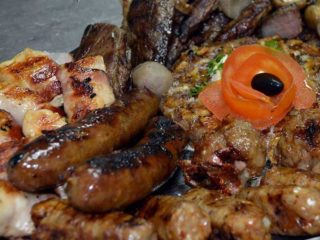 Meal salads
500g
Shopska salad
Tomatoes, cucumbers, peppers, onions, feta cheese
Greek salad
Tomato, cucumber, onion, paprika, olives, feta cheese, basil
Tuna salad
Pieces of tuna, iceberg lettuce, corn, tomatoes, mushrooms, croutons, onion, prosciutto, chicken, balsamico
Caprese salad
Mozzarella, tomato, basil, olive oil, salt
Caesar salad
Chicken, croutons, garlic, Caesar sauce, cherry tomato, bacon, iceberg lettuce, rocket, parmesan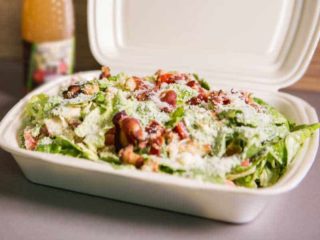 Rocket salad
Arugula, penne, cherry tomato, olives, lettuce, onions, prosciutto, chicken, balsamico, olive oil
French fries
Sandwiches
400g-500g In freshly baked bun or a tortilla.
Ham sandwich
Ham, cheese, tomato, lettuce, egg, mushroom salad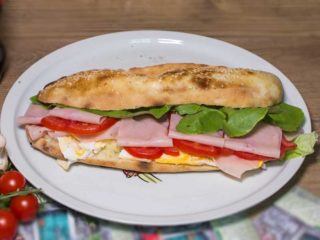 Chicken sandwich
Grilled chicken, mayonnaise, cucumber, cheese, lettuce, curry sauce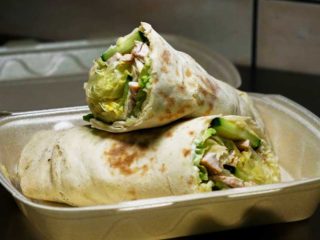 Italian sandwich
Sour cream, cheese, ham, prosciutto, cheese, mushrooms, cucumber
Uzicki sandwich
Kaymak, prosciutto, tomato, egg, lettuce
Gourmand sandwich
Fried chicken, tartar sauce, tomato, French fries, cheese, chili sauce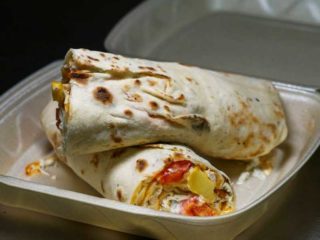 Serbian sandwich
Cheese, egg, porkes neck, bacon, pepperoni, tomato, lettuce
Parma sandwich
Prosciutto, tomato, mozzarella, pesto Genovese, rocket
Castello Bianco sandwich
Cheese, ham, porks neck, ham, sausage, bacon, sour cream, tomato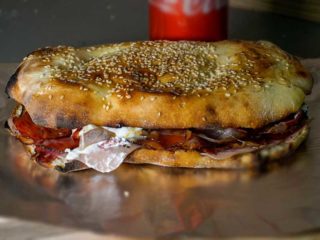 Club sandwich
Chicken, mayonnaise, iceberg lettuce, bacon, tomato, toast, eggs, cheese
Sandwiches without cheese and meat
400g-500g In freshly baked bun or tortilla.
Tuna sandwich
Tomato, onion, corn, lettuce, tuna
Vegetarian sandwich
Tomato, cucumber, lettuce, olives, peppers, lowfat cheese
Fish fingers in bun
Vegetable tartar, lettuce
Fish and squids
500g With every meal fresh bun, Dalmatian stew or rice, marinade, lemon. Vegetable.
Savory pancakes
Two pieces
Pancake cheese, sour cream, ham
Pancake cheese, sour cream, smoked neck
Pancake cheese, sour cream, pechenitza
Pancake cheese, sour cream, kulen
Pancake cheese, sour cream, chicken
Pancake cheese, sour cream, prosciutto
Sweet pancakes
Two pieces.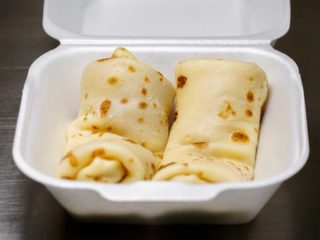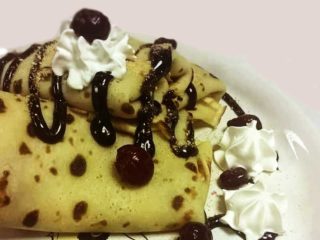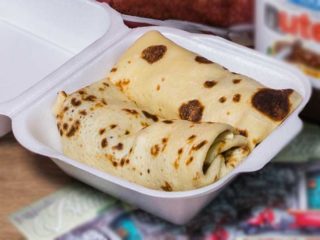 Drinks
Castello Bianco Beograd, Castelo Bianco, pizza Bianco, pizza Castello, Castello Bianco kontakt ili Castelo Bianco dostava, šta god od ovoga pretraživali nećete pogrešiti jer Vas vodi do Castello Bianco picerije. Ova picerija radi dostavu za Vas od ponedeljka do nedelje u periodu od 10 do 22h.

A njihovom ponudom bićete sigurno zadovoljni. Osim pica po kojima su poznati, čak i posnim, u njohovom meniju možete pronaći paste, roštilj, komplet obroke, sendviče, slane i slatke palačinke. Zasigurno zadovoljićete Vaš apetit.

Online poručivanje hrane je najlakša varijanta odabira i naravno poručivanja jer imate uvid u sastojke, slike jela i cene istih po veličinama i porcijama.

Dostava hrane na kućnu adresu je besplatna i obavlja se svakog dana. Želite da se hrana dostavi u određeno vreme ili što pre? Nikakav problem, samo naglasite to u napomeni i Castelo picerija će se potruditi da Vam izađe u susret.

Za kraj možemo Vam samo reći uživajte u hrani i prijatno!
×
If your location is not listed, please choose another restaurant.
×
Castello Bianco
Support and phone ordering
0606122200