Diana Restoran food delivery Sremska Mitrovica

Kralja Petra Prvog 70

Delivery: 09:00-21:45

Takeaway: 09:00-21:45

POS

Online

Delivery

Takeaway
Please add 200 rsd to reach the minimum amount.
Breakfast
Breakfast can be ordered until 12:30pm!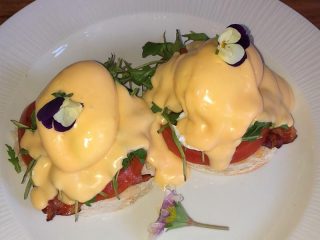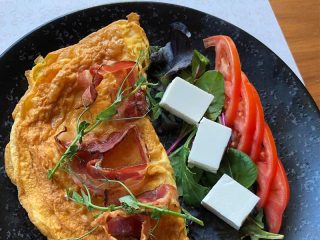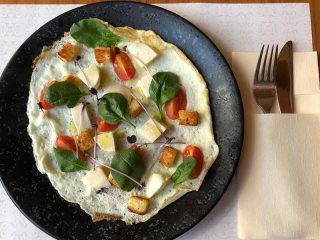 Healthy breakfast
Oatmeal, vanilla milk, hazelnuts, almonds, fresh fruit.
Poached eggs with smoked salmon
Eggs on the eye with sausage
Eggs on the eye with crispy bacon
Sandwiches
Beef carpaccio on toast with arugula
Club sandwich
Toast bread, chicken, egg, crispy bacon, tomato, lettuce, gouda and french fries.
Homemade sandwich
Homemade ćabata, prosciutto, kajmak, lettuce and tomato.
Capresse sandwich
Homemade ciabatta, tomato, mozzarella, prosciutto, rocket and pesto sauce.
Appetizers
Beef tartare with aromatic butter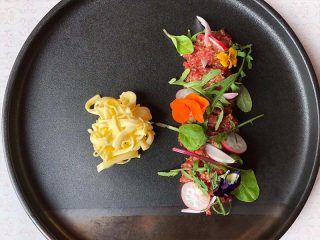 Grilled Halumi cheese with raspberry and truffle jam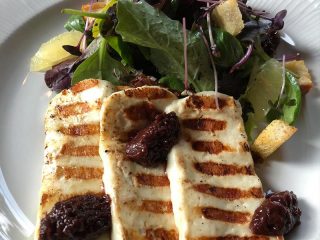 Great plate
Prosciutto, kulen, cheese select_ion, Kalamata olives, dried tomatoes in olive oil, capers, cheese select_ion.
Low plate
Prosciutto, kulen, olives, cheese select_ion.
Beef carpaccio
Served on arugula with parmesan and pine nuts, topped with the finest Istrian olive oil.
Smoked salmon carpaccio
Avocado, ricotta, cucumber, dill, lime.
Pizzas and bruschettas
32cm.
Margarita
Peeled tomato, mozzarella, basil.
Capriccioza
Peeled tomato, cheese, ham, mushrooms, oregano.
Italiana
Peeled tomato, mozzarella, prosciutto, rocket, cherries.
Quattro stagioni
¼ capriccioza, ¼ italiana, ¼ quattro formaggi i ¼ Premium.
Quattro formaggi
Mix select_ed cheeses: mozzarella, camembert, gorgonzola and parmesan.
Vegetarian
Mix vegetables.
Bruschetta with prosciutto
Bruschetta with mozzarella
Bruschetta with smoked salmon
Meal salads
Caesar salad with chicken
Iceberg lettuce, lola roso, chicken with sesame, croutons, crispy pancetta.
↗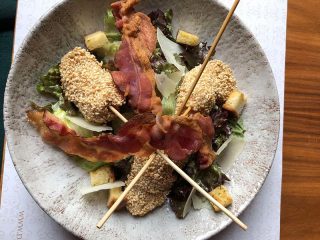 Beefsteak salad
Mix of lettuce, radish, cucumber, paprika, cherry tomato, pieces of steak, aceto mustard dressing.
↗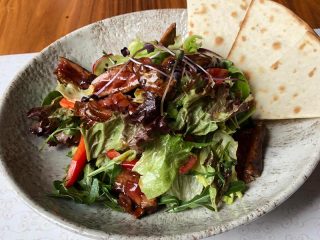 Salad with quinoa
Mix of lettuce, red quinoa, roasted walnuts, sun-dried tomatoes, avocado.
↗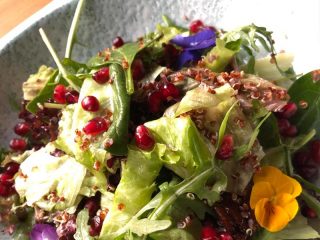 Detox salad
Mix lettuce, chicory, cucumber, broccoli, peppers, cherry tomatoes, almond leaves, chia seeds.
↗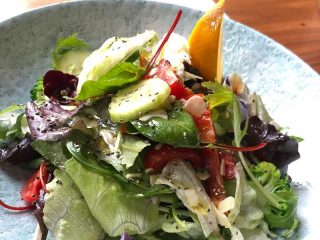 Premium offer
Today, dry ripening of meat is considered an art more than a science. Our beef steaks that we offer you are aged in strictly controlled conditions for 3-5 weeks, obtained exclusively from female heads of heifers, which makes our meat even softer and tastier. In our current offer we have RibEye steak and Tbone steak aged for up to 30 days
T-bone
Among the better known types of steak is certainly Tbone. It consists of steak and rump steak. It is named after the characteristic shape of the bone with which it is served and resembles the letter T.
RibEye
During the period of cowboy culture, Americans realized that the best pieces of meat are actually next to the ribs, especially if they are grilled. This is how the RibEye steak was created, the most popular of all steaks in the world, including in our country.
Pasta and rissoto
Tagliatelle with truffles and prosciutto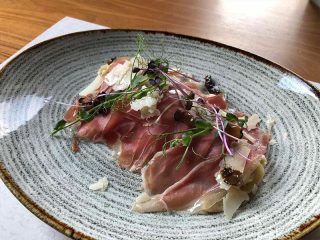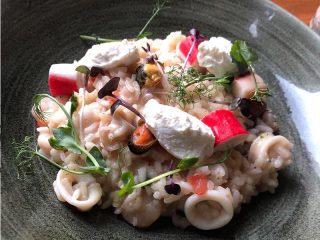 Gnocchi with turkey, broccoli and smoked cheese
Turkey cubes sauteed in olive oil with the addition of creamy sauce and broccoli.
Spaghetti with shrimp, rosé and red pesto
Pasta Carbonara
Pasta with crispy bacon in white sauce.
Saffron risotto
Rice with fresh vegetables and exotic saffron.
Risotto with steak in teriyaki sauce
Pieces of grilled steak in teriyaki sauce with fresh pomegranate on a base of basmati rice, walnuts and broccoli.
Main dishes
For two persons.
Beefsteak tagliatelle with mashed potatoes, truffles and rocket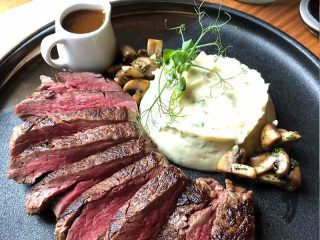 Chicken fillet with glazed broccoli, spring onions and cauliflower puree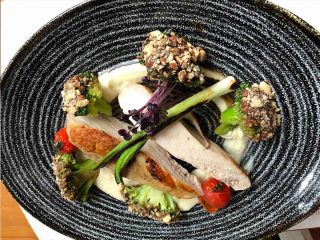 Veal ribs with Dijon mustard, potatoes and veined vegetables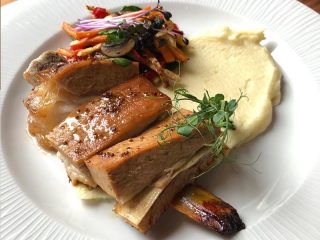 Duck breast with young asparagus, celery puree and wine sauce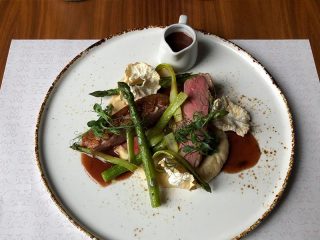 Turkey with grinders
For two.
Beefsteak with grilled vegetables
Cabernet butter.
Gourmet burger with kajmak sauce and homemade flatbread
Beefsteak in olive oil with aromatic herbs
Fish
Tuna with sesame
Salad of fennel, sun-dried tomatoes, cucumber, shallots, mint, basil and lemon.
↗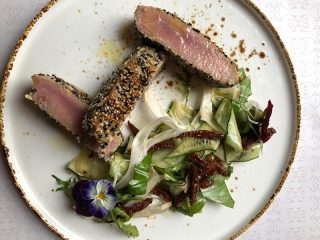 Salmon fillet with avocado, asparagus, young spinach and new potatoes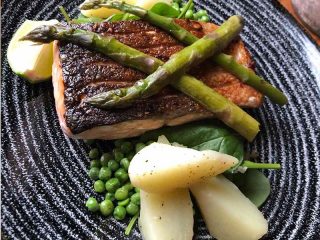 Salmon fillet with grilled vegetables and teriyaki sauce
Side dishes
Flavored potatoes
Wedges.
Salads
Serbian traditional salad
Arugula with cherries, parmesan and pine nuts
Children's menu
Pljeskavitsa with french fries
Chicken sticks with french fries
Desserts
Chocolate souffle
For lovers of strong chocolate cakes made in the French way, served with vanilla ice cream and wild berries.
Trilece
Topped with three types of milk and homemade caramel.
Mille-feuille with vanilla cream and berries
Baking basket
Basket of warm pastries with spreads
Support and phone ordering
Pizza, Pasta, Breakfast, Italian food, Chicken, Sandwiches, Fish and sea food, Restaurants, Desserts, Internacional cuisine, Vegetarian food
Restaurant address:
Kralja Petra Prvog 70, Sremska Mitrovica
Delivery 09:00 until 21:45
Takeaway 09:00 until 21:45
| | | |
| --- | --- | --- |
| Working hours | Delivery | Takeaway |
| Monday | 09:00 until 21:45 | 09:00 until 21:45 |
| Tuesday | 09:00 until 21:45 | 09:00 until 21:45 |
| Wednesday | 09:00 until 21:45 | 09:00 until 21:45 |
| Thursday | 09:00 until 21:45 | 09:00 until 22:00 |
| Friday | 09:00 until 21:45 | 09:00 until 21:45 |
| Saturday | 09:00 until 21:45 | 09:00 until 21:45 |
| Sunday | 12:00 until 20:45 | 09:00 until 20:45 |
×
Diana Restoran

Choose your address
+ add new address
If you have an account, please log in or we will create you an account on your first order. Registered users have saved addresses.
Enter address for delivery
If your address is not listed, click here.
Enter address for delivery