Diana Restoran food delivery Sremska Mitrovica
Pizza, Pasta, Breakfast, Italian food, Chicken, Sandwiches, Fish and sea food, Restaurants, Desserts, Internacional cuisine, Vegetarian food

Kralja Petra Prvog 70, + external delivery, Sremska Mitrovica
Delivery 09:00 until 21:45
Takeaway 09:00 until 20:45
SHOW MAP
Enter address for delivery
| | | |
| --- | --- | --- |
| Working hours | Delivery | Takeaway |
| Monday | 09:00 until 21:45 | 09:00 until 20:45 |
| Tuesday | 09:00 until 21:45 | 09:00 until 20:45 |
| Wednesday | 09:00 until 21:45 | 09:00 until 20:45 |
| Thursday | 09:00 until 21:45 | 09:00 until 20:45 |
| Friday | 09:00 until 21:45 | 09:00 until 20:45 |
| Saturday | 09:00 until 21:45 | 09:00 until 20:45 |
| Sunday | 09:00 until 21:45 | 09:00 until 20:45 |
Breakfast
Breakfast can be ordered until 12:30pm!
Fried eggs
3 eggs, feta cheese 60g, tomato 70g. Addition by your choice.
Omelette
3 eggs, feta cheese 60g, paradajz 70g. Addition by your choice.
Scrambled eggs
4 jaja, feta cheese 60g, tomato 70g. Addition by your choice.
Serbian breakfast

350g. French fries, prosciutto, kulen, milano salame, kajmak, ajvar, cracklings. ↗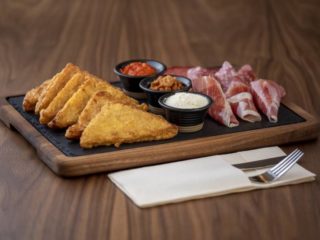 Sandwiches
Club sandwich
350g. Toast, chicken, egg, crispy bacon, tomato, lettuce, gouda, french fries. ↗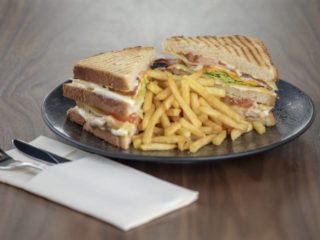 Caprese sandwich
250g. Homemade ciabatta, tomato, mozzarella, prosciutto, rocket, pesto sauce.
Homemade sandwich
300g. Homemade ciabatta, prosciutto, kajmak, lettuce, tomato.
Sandwich with smoked salmon
250g. On homemade black bread.
Warm toast sandwich
Toast, ham, butter, lettuce, tomato, cheese, cheese.
Appetizers
Plate

200g/400g. Prosciutto, kulen, milano salame, olives, cheese select_ion. ↗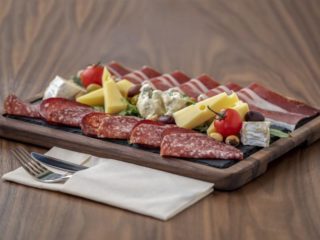 Bruschetta with prosciutto
Bruschetta with mozzarella
Foccacia
150g. Fasting. Crispy, hot italian bread with olive oil and sea salt.
A basket of bread
200g. Mix of homemade bread.
Pizza
32cm.
Margherita pizza
300g. Peeled tomato, mozzarella, basil.
Capricciosa
350g. Peeled tomato, cheese, ham, mushrooms, oregano.
Quattro stagioni
500g. ¼ Capricciosa, ¼ Italiana, ¼ Quattro formaggi, ¼ Premium pizza.
Quattro formaggi
350g. Cheese mix – mozzarella, camembert, gotgonzola, parmesan.
Meal salads
Caprese salad
250g. Tomato, mozzarella, basil, pesto sauce.
Turkey salad
300g. Mix salad with corn and tomato, olive oil dressing, served n tortilla with grilled turkey and fresh pear. ↗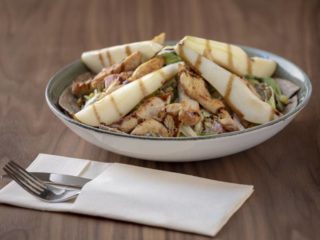 Caesar salad
300g. Iceberg salad, caesar dressing, crispy panchetta, grilled chicken fillet with croutons and parmesan.
Beefsteak salad
350g. Mix salad with baby spinach, cucumber, paprika, mustard and honey dressing, aromatized tortilla, marinated beefsteak peaces, pumkin seed and parmesan. ↗
Salad with smoked salmon
300g. Crispy toast, salad mix with cucumber, and corn, special dressing, pine nuts, smoked salmon peaces. ↗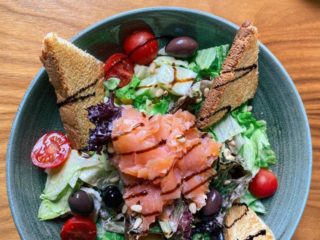 Main dishes
For two persons.
Chicken roll
500g. Chicken fillet, stuffed with mozzarella and prosciutto, rolled with domestic panchetta and cheese. ↗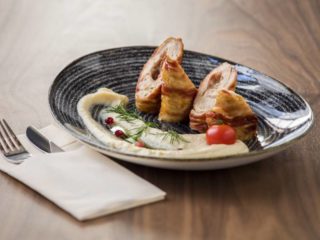 Turkey in spanish sauce
400g. Grilled turkey sticks in sweet sauce with prawns and boletus, sprinkled with pine nuts. ↗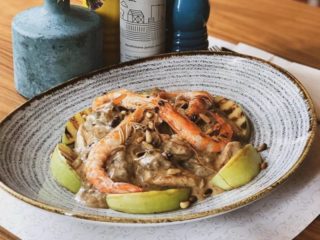 Turkey with pastry on Dalmatian way
1kg. Grilled turkey fillet with homemade sour cream, baked with gorgonzola.
Cevapi
350g. 10 grilled banjalucki cevapi, served in bun with onion and kajmak.
Burger dry age
450g. Young beef meat, salt, without additive, served in kaiser with special sauce. ↗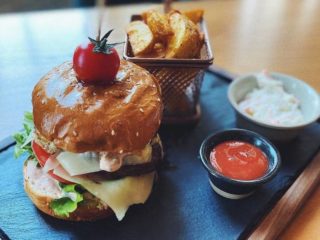 Beefsteak tagliata
450g. Young beef meat, steak spices, served on rocket with pine nuts and parmesan.
Chicken skewer in bacon
With the addition of attachments as desired.
Parmigiana
300g. Grilled vegetables in tempura with pieces of fresh mozzarella topped with peeled tomatoes and sprinkled with parmesan leaves. Baked in the oven.
Pasta and rissoto
Pasta Carbonara
350g. Crispy bacon, white sauce.
Gnocchi with turkey
400g. Turkey in olive oil with creamy sauce and broccoli.
Gnocchi with beefsteak
450g. Marinated beefsteak peaces, grilled in wok, with eshatol, boletus, dried tomato in picante butter sauce.
Risotto with chicken
400g. Rice with chicken fillet and vegetables and Grana Padano slices.
Risotto with beefsteak in teriaki sauce
450g. Grilled rice in teriaki sauce with fresh pomegranate on basmati rice, walnuts and broccoli. ↗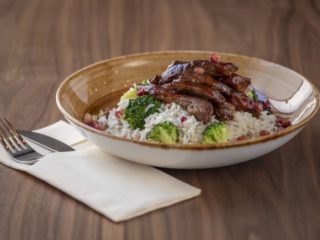 Fish
Sea bass on dalmatian way
Grilled salmon with grilled vegetables
Children's menu
Childrens pasta Bolognese
Kebabs with french fries
5pcs. kebab, side dish french fries.
Chicken sticks with french fries
Salads
Rocket salad with cherry tomato, pine nuts and parmesan
Desserts
×
If your location is not listed, please choose another restaurant.

rsd
×
Diana Restoran

Choose your address for delivery
Enter address for delivery
If your address is not listed, click here
Enter address for delivery