Dvorištance food delivery Mladenovac
Grill, Gyros, Pasta, Breakfast, Crepes, Chicken, Burgers, Sandwiches

Miće Milovanovića 5, + external delivery, Mladenovac
Delivery 09:00 until 20:00
Takeaway 09:00 until 20:00
SHOW MAP
Enter address for delivery
| | | |
| --- | --- | --- |
| Working hours | Delivery | Takeaway |
| Monday | 09:00 until 20:00 | 09:00 until 20:00 |
| Tuesday | 09:00 until 20:00 | 09:00 until 20:00 |
| Wednesday | 09:00 until 20:00 | 09:00 until 20:00 |
| Thursday | 09:00 until 20:00 | 09:00 until 20:00 |
| Friday | 09:00 until 20:00 | 09:00 until 20:00 |
| Saturday | 09:00 until 21:00 | 09:00 until 20:00 |
| Sunday | 09:00 until 20:00 | 09:00 until 20:00 |
Breakfast
3 pcs. eggs.
Fit omellette
3 eggs, spinach, oregano, olives, salad mix.
Sandwiches
Toast sandwich
French fries, cheese, ham, 2 slice of toast bread.
School sandwich
Lettuce, cheese, ham, tartar, tortilla.
Dvoristance sandwich
Cheese, turkey, ham, mayonnaise, sour cream.
Club sandwich
Spiced potatoes, lettuce, fried egg, ham, ham, panchetta, chicken, sour cream, cheese, 3 slices of tost bread. ↗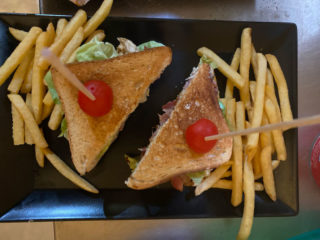 Warm appetizers
Grill
Plate for 4 persons
Sausage 250g, kebabs 200g, wings 500g, sesame sticks 300g, french fries 200g.
Chicken
Each portion of chicken contains about 300g of meat.
Chicken fillet
Grilovani file sa povrćem.
Rolled chicken
Pileći file, šunka, kačkavalj, kraški vrat, neutralna pavlaka, pršuta, grilovano povrće, kajmak.
Sesame sticks
Pileći file, susam, pomfrit, tartar.
Chicken in mushroom sauce
Pasta
Carbonara spaghetti
Šunka, slanina, kisela pavlaka.
Salad
Garden salad
Zelena salata, rukola, čeri paradajz.
Savory crepes
Sweet crepes
Other
×
If your location is not listed, please choose another restaurant.

rsd
×
Dvorištance

Choose your address for delivery
Enter address for delivery
If your address is not listed, click here
Enter address for delivery