| | | |
| --- | --- | --- |
| Working hours | Delivery | Takeaway |
| Monday | 08:55 until 19:30 | 24:00 until 24:00 |
| Tuesday | 08:55 until 19:30 | 24:00 until 24:00 |
| Wednesday | 08:55 until 19:30 | 24:00 until 24:00 |
| Thursday | 08:55 until 19:30 | 24:00 until 24:00 |
| Friday | 08:55 until 19:30 | 24:00 until 24:00 |
| Saturday | 08:55 until 19:30 | 24:00 until 24:00 |
| Sunday | 24:00 until 24:00 | 24:00 until 24:00 |
▼ EXPAND ALL
▲ COLLAPSE ALL
Pizza
Fuzija pizza
Peeled tomato, ham, kulen, prosciutto, cheese, sour cream, olives, smoked cheese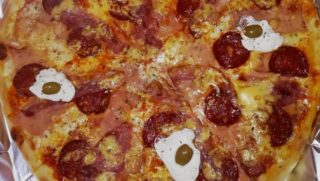 Pepperoni
Peeled tomato, cheese, kulen, fefferoni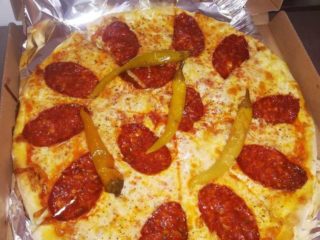 Capricciosa
Peeled tomato, ham, cheese, mushrooms
Vesuvio
Peeled tomato, cheese, ham
Margharita
Peeled tomato, cheese, olives
Funghi
Peeled tomato, cheese, mushrooms
Vegetariana
Peeled tomato, cheese, peppers, zucchini, eggplant, onion, rocket
Prosciutto pizza
Peeled tomato, cheese, ham, rocket
Quattro Stagione
Peeled tomato, ham, kulen, pecenica, bacon, cheese
Quattro formaggi
Cheese, smoked cheese, gorgonzola, parmesan, peeled tomato
Piroshka
Breakfast
Omelet kulen
Meals
Wrap Fuzija
Tortilla, chicken drumstick 200 grams, paprika, carrot, iceberg, sour cream, mushrooms
Stuffed rolled vesalica
Pork steak 200 grams, bacon, prosciutto, cheese, French fries 100 grams, salad, bun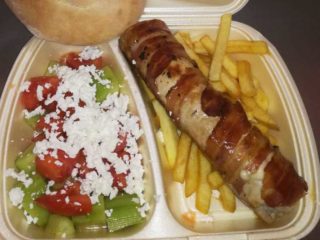 Stuffed chicken breasts
Chicken fillet 200 grams stuffed with cheese and ham. Bun, salad, French fries 100 grams
Stuffed chicken drumstick
Drumstick 200 grams stuffed with cheese and ham. Bun, salad, French fries 100 grams
Karadjordjeva pork steak
Pork fillet 150 grams, eggs, breadcrumbs, kajmak, tartar sauce, French fries 100 grams, bun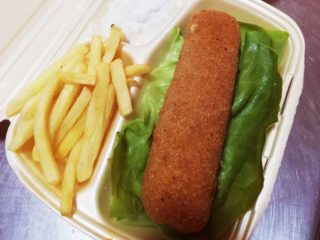 Karadjordjes chicken steak
Chicken fillet 150 grams, eggs, breadcrumbs, kajmak, tartar sauce, French fries 100 grams, bun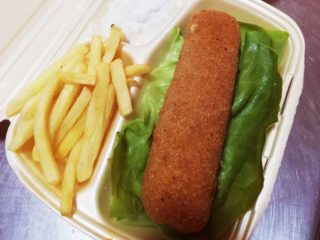 Crispy chicken
Chicken fillet 200 grams, eggs, cornflakes, French fries 100 grams, salad, bun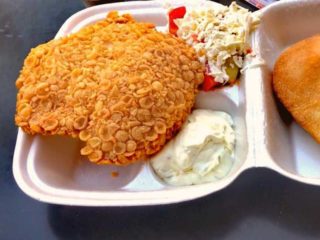 Wings 400 grams
Bun, salad, French fries 100 grams, sauce of your choice: chili, curry or BBQ
Fried cheese
Cheese 200 grams, eggs, breadcrumbs, tartar sauce, French fries 100 grams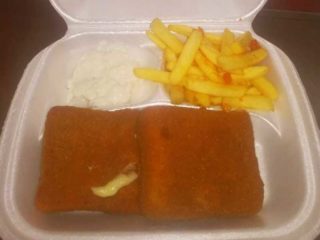 Viennese pork steak
Pork steak 200 grams, eggs, breadcrumbs, tartar sauce, French fries 100 grams, bun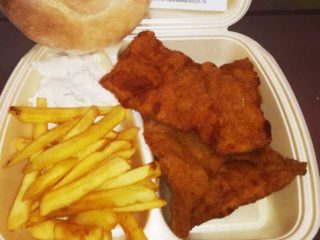 Viennese chicken steak
Chicken fillet 200 grams, eggs, breadcrumbs, tartar sauce, French fries 100 grams, bun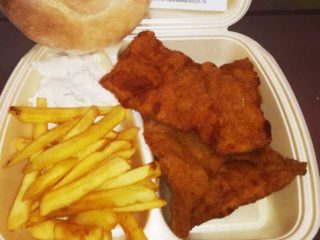 Chicken drumstick
Drumstick 200 grams, bun, salad, French fries 100 grams
Chicken breasts
Chicken fillet 200 grams, bun, salad, French fries 100 grams
Stuffed mushrooms
Mushrooms 200 grams, cheese, ham
Sandwiches
Ham sandwich
Flat bread, ham, sour cream, cheese, tomato, lettuce
Sandwich pecenica
Flat bread, pecenica, sour cream, cheese, tomato, lettuce
Kulen sandwich
Flat bread, kulen, sour cream, cheese, tomato, lettuce
Serbian sandwich
Somun, prosciutto, kajmak, lettuce, tomato, pickled cucumber
Sandwich Fuzija
Somun, Iceberg, prosciutto, ham, kulen, tomato, sour cream, cheese
Pasta
Carbonara
Neutral cream, pancetta, parmesan, garlic
Grilled paste Fuzija
Fusill, chicken, zucchini, peppers, onion, eggplant, soy sauce, parmesan, spices
Pasta 4 cheeses
Neutral cream, cheese, smoked cheese, gorgonzola, parmesan
Veggie pasta
Soy sauce, eggplant, zucchini, paprika, onions
Risotto
Veggie risotto
Soy sauce, eggplant, zucchini, peppers, onion
Mushrooms risotto
Butter, mushrooms, porcini mushrooms
Chicken risotto
Chicken, butter, zucchini, parmesan
Risotto 4 cheeses
Neutral cream, cheese, smoked cheese, gorgonzola, parmesan
Salads
Shopska salad
350 grams. Tomato, cucumber, onion, cheese
Greek salad
350 grams. Tomato, cucumber, feta, olives, oregano, red onion
Caesar salad
380 grams. Mix of lettuce, chicken fillet, pancetta, Caesar sauce, parmesan
Side dishes
Savory pancakes
Pancake ham
Cheese, sour cream, ketchup
Pancake pecenica
Cheese, sour cream, ketchup
Pancake kulen
Cheese, sour cream, ketchup
Pancake prosciutto
Cheese, sour cream, ketchup
Sweet pancakes
Pancake Snikers
Black chocolate, caramel, peanuts
Nuterola
Roll with nutella and crumbly hazelnuts
Drinks
Reč fuzija u opštem smislu znači spajanje, udruživanje a u gastronomskom to možemo objasniti ovako - idelana kombinacija sastojaka koja će razgaliti Vaša čula. A to će Vam biti jasno kada probate specijalitete kuće - Fuzija picu, grilovanu pastu Fuzija kao i Wrap Fuziju. Jer želimo da bude jasno, kada kažete pica Vidikovac da mislite na Fuziju.
I zaista, fast food Fuzija na Vidikovcu ima toliko raznovrsnu ponudu da svako može pronaći svoje omiljeno jelo, bilo da je to pica, brusketi, pasta ili omiljeni desert - palačinke. Zato je najbolje da pogledate njihov meni i odaberete željenu hranu.
Ukoliko ste na poslu ili prosto nemate dovoljno vremena da u svom domu spremite ukusan obrok, restoran Fuzija se pobrinuo i za to. U svoju ponudu su uvrstili obroke i to njih 15. Bilo da ste ljubitelj piletine, svinjetine ili ribe ovi obroci su idelani za ručak, a uz isti dobijate pomfrit, salatu i lepinju.
Fast food Fuzija dostava hrane za Vas funkcioniše svim danima u nedelji. Obradujte sebe i drage ljude ukusnom hranom. Poručite online putem i vrlo brzo željena hrana stiže na Vašu adresu.
Prijatno!
×
If your location is not listed, please choose another restaurant.
×
Fuzija
Restoran koristi oblasti dostave: Banovo Brdo, Bele Vode, Cerak, Cerak Vinogradi, Filmski Grad, Labudovo Brdo, Petlovo Brdo, Rakovica, Vidikovac, Žarkovo,
Choose a restaurant
When you select your location, you will see a list of restaurants which deliver food in your area with appropriate minimum amounts and costs of delivery.
Order food online
Choose a restaurant by cuisine or minimum amount. Add to cart your favorite food and write as your special requests. Enter your address so the deliverer can find you easily.
Food is delivered, enjoy!
After submitting the order, you will see the estimated delivery time. Enjoy your food and write a review!
2020. © Alideda All rights reserved.