Credit card
Online payment
takeaway
45 min.
Pizza, Grill, National food, Cooked meals, Pasta, Italian food, Healthy food, Chicken, Fish and sea food, Restaurants, Desserts, Internacional cuisine, Vegetarian food
Delivery 12:00 until 23:00
Takeaway 12:00 until 23:00
Lorenzo i Kakalamba food delivery Belgrade
Cvijićeva 110, Belgrade
Appetizers
Serbia 100
Organic sausage of pure meat from Pirot, Serbian pork cracklings, red pepper spread, kaymak – clotted cream.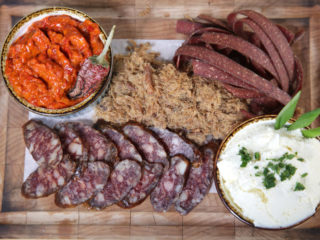 Melanzana Parmigiana
Eggplant, tomato pelato, mozzarella, parmesan, basil, baked in the oven.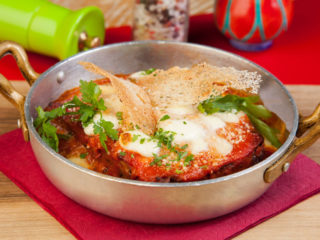 Domestic cheese select__ion
Goat cheese, mix cheese from Pirot, yellow cheese from Pirot.
Soups / Broths
Beef soup with semola dumplings or with handmade noodles
Meal salads
Toscana salad
Green salad mix, pear, pecorino cheese, dressing aceto balsamico, pumpkin, beetroot.
Caesar salad
Grilled chicken fillet, iceberg salad, rocket salad, croutons, pancetta crisp, Cesar dressing, parmesan.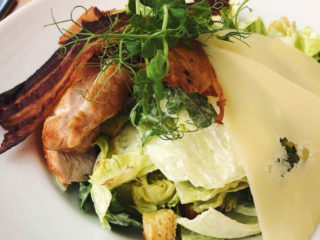 Bistecca salad
Grilled beef steak strips, green salad mix, peppers, cherry tomato, champignons, croutons.
Salmon salad
Grilled salmon, green salad mix, cherry tomato, pine seeds, red onion, croutons.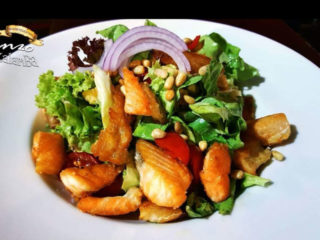 Pasta / Risotto
Our handmade pasta - Tagliatelle, Ravioli, Gnocchi, Lasagne.
Penne Arrabiata
Tomato pelato, peperoncino, caper, basil, garlic, parmesan.
Risotto with chicken, sun dried tomato and sliced almonds
Risotto Primavera
Risotto with season vegetables and parmesan.
Lasagna from owen, traditional recipe
Bolognese sauce, bechamel sauce, parmesanm baked in the oven.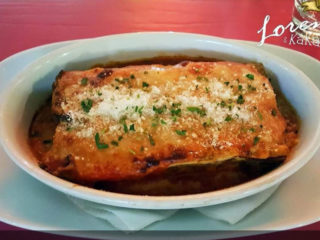 Tagliatelle with beefsteak
Beef steak, olive oil, pepper, cherry tomato, italian proscuitto, parmesan.
Porcini mushrooms risotto
Risotto with porcini mushrooms with truffles
Spaghetti Al Pacino
Olive oil, garlic, bacon, proscuitto, cherry tomato, tomato pelato, rocket salad, parmesan.
Gnocchi with prosciutto and mushrooms in white wine cream sauce
Tomato pelato, peperoncino, caper, basil, parmesan.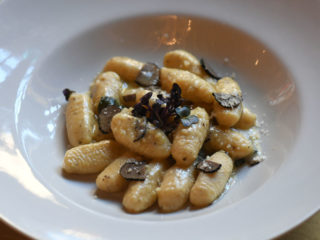 Pizza
Main courses
Chicken breasts au gratin
Baked chicken fillet in flavored cream sauce, served with gnocchi and broccoli.
Duck fillet
Tagliata served with vegetables with slats, maple syrup and celery pure.
Grilled Beefsteak in truffles sauce
Rocket salad, parmesan, aceto balsamico sauce.
Chicken Toscana
Chicken fillet in sun dried tomato and white wine sauce, served on mushed potato.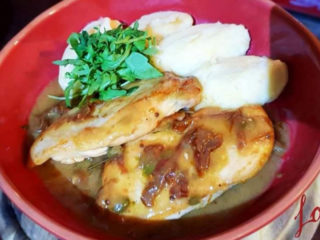 Chicken Milanese
Chicken breasts served on green mix salad with red onion, cherry tomato and honey dressing.
Beefsteak burger
Our burger is made from 100% beefsteak and served with green salad, tomato, crispy bacon and dressing.
Pulled pork in bun
Crispy bacon, BBQ sauce, Coleslaw salad, french frise chips.
Traditional specialtes
Serbian pljeskavica
Served with baked beans "Serbian style" or French fries, onion and Kaymak.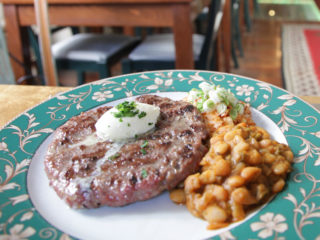 Shushpe
Sweet dry red peppers stuffed with spicy minced meat, prepared in earthen vessel, served with mashed potato sour milk.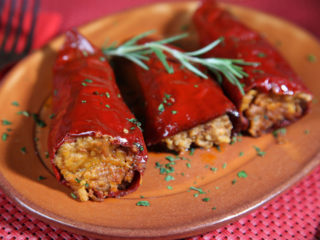 Fish
Sauce of Choice
Side dishes
Baked beans Serbian style
Salads
With the dish
Serbian salad
Tomato, cucumber, onion, hot pepper.
Rucola with cherry tomato, pignoli and parmesan
Spring salad
Green salad, spring onion, radish.
Kids menu
Chicken sticks with french fries kids menu
Spaghetti Bolognese kids menu
Desserts
Chocolate fondant with raspberry sauce
Drinks
×
If your location is not listed, please choose another restaurant.
rsd
×
Lorenzo i Kakalamba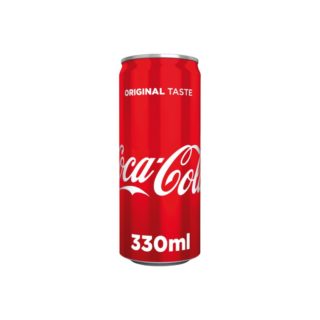 Support and phone ordering
0606122200
Choose a restaurant
When you select your location, you will see a list of restaurants which deliver food in your area with appropriate minimum amounts and costs of delivery.
Order food online
Choose a restaurant by cuisine or minimum amount. Add to cart your favorite food and write as your special requests. Enter your address so the deliverer can find you easily.
Food is delivered, enjoy!
After submitting the order, you will see the estimated delivery time. Enjoy your food and write a review!
For restaurants
List your restaurant on this portal FOR FREE. Alideda creates websites for food delivery, provides the ordering system for your websites or Facebook pages, takes care about your marketing campaigns. Call us!
Terms of sale
2020. © Alideda All rights reserved.
0606122200
Phone ordering