| | | |
| --- | --- | --- |
| Working hours | Delivery | Takeaway |
| Monday | 09:00 until 18:00 | 09:00 until 19:00 |
| Tuesday | 09:00 until 18:00 | 09:00 until 19:00 |
| Wednesday | 09:00 until 18:00 | 09:00 until 19:00 |
| Thursday | 09:00 until 18:00 | 09:00 until 19:00 |
| Friday | 09:00 until 18:00 | 09:00 until 19:00 |
| Saturday | 12:00 until 18:00 | 12:00 until 19:00 |
| Sunday | 12:00 until 18:00 | 12:00 until 19:00 |
▼ EXPAND ALL
▲ COLLAPSE ALL
Pasta
Homemade, fresh pasta.
Prosciutto rocket pasta
Njeguska prosciutto, parmesan, rocket, neutral sour cream, cherry tomato.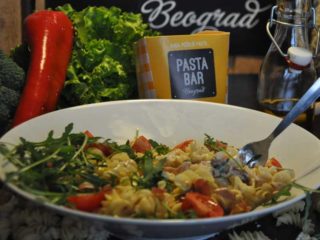 Alfredo broccoli
Puter, olive oil, neutral sour cream, parmesan, broccoli.
Alfredo chicken
Puter, olive oil, neutral sour cream, parmesan, grilled chicken.
Alfredo chicken and broccoli
Puter, olive oil, neutral sour cream, parmesan, grilled chicken, broccoli.
Aglio olio
Olive oil, garlic, chili.
Broccoli zucchini pasta
White sauce, neutral sour cream, broccoli, zucchini.
Amatriciana
Pancetta, pelat, paprika, garlic.
Chicken curry pasta
Smoked chicken, leek, mushrooms, neutral sour cream.
Rio Mare pasta
Tuna Rio mare, pelat, olives, peeled sauce.
Special pasta
Smoked meat, pancetta, broccoli, zucchini, paprika, neutral sour cream, chili.
Diavolo pasta
Njeguski prosciutto, kulen, pechenitsa, neutral sour cream, sour cream, chili sauce.
Sweet pasta
Homemade tortillas
Sour cream, cheese, salad.
Tortilla kulen
Meal salad
Dressing, virgin olive oil and aceeto balsamico.
Other
Breakfast
Omelette can be ordered until 12:00h.
Omelet smoked chiken with tortilla
Volite paste i uživate u ovom italijanskom specijalitetu? Pasta Bar je onda pravi izbor za Vas.
Nalaze se na Novom Beogradu i u ponudi imaju odlične paste koje pripremaju sa domaćom testeninom. Ova testenina se sprema svakodnevno, na određen način, odlično upija sos i uz ostale zdrave i ukusne sastojke, daje prepoznatljiv ukus pastama iz ove kuhinje.
Na meniju možete pronaći bogat izbor pasti. Pored najpopularnijih pasti kao što su: Carbonara, Bolognese, Amatriciana, preporučuju i pastu sa brokolijem i tikvicama, Specijal pastu, pastu sa dimljenom piletinom i još koju ali najbolje je da omiljenu pronađete sami. Osim pasti, iz ovog restorana možete poručiti i tortilje, lazanje, omlete.
Ljubitelji italijanske kuhinje izaberite i poručite. To možete uraditi online i sveža pasta biće dostavljena u Vašem domu ili kancelariji u željeno vreme ili što pre. Online poručivanje i dostava hrane nikada nije bila jednostavnija.
Prijatno!
×
If your location is not listed, please choose another restaurant.
×
Pasta Bar Novi Beograd
Choose a restaurant
When you select your location, you will see a list of restaurants which deliver food in your area with appropriate minimum amounts and costs of delivery.
Order food online
Choose a restaurant by cuisine or minimum amount. Add to cart your favorite food and write as your special requests. Enter your address so the deliverer can find you easily.
Food is delivered, enjoy!
After submitting the order, you will see the estimated delivery time. Enjoy your food and write a review!
2020. © Alideda All rights reserved.