Paste i Salate Centar food delivery Belgrade
Belgrade
Restaurant is open from 24:00 until 24:00
Pizza, Pasta, Breakfast, Crepes, Italian food, Chicken, Sandwiches, Vegetarian food
Paste i Salate Centar food delivery Belgrade
▼ EXPAND ALL
▲ COLLAPSE ALL
Pasta
Arrabiata
Vegetables, mushrooms, peppers, zucchini, chili pepper, tomato, olives, spices, salt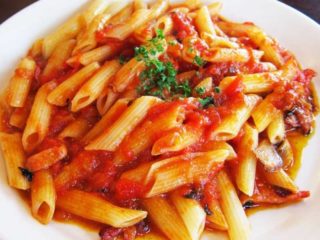 Broccoli
Salt, spices, mushrooms, broccoli, garlic, neutral cream, olives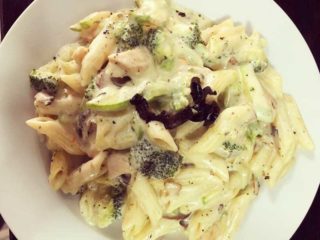 Quatro formaggi
Gorgonzola, emmental, parmesan, mozzarella, spices, salt, neutral cream, olives, pasta.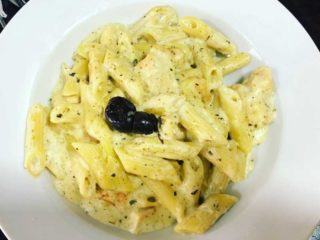 Aglio e olio
Olives, peperoncino, olive oil, parsley, garlic
Alla Carboanara
Egg, salt, pancetta, spices, garlic, parmesan, neutral cream, olives
Bolognese
Carrot, celery, minced meat, peeled tomato, pepper, salt, bay leaf, wine, parmesan
Frutti di mare pasta
Seafood, tomato sauce, salt, pepper, garlic, parsley, olives
La cosa nostra
Zucchini, chery tomato, goat cheese, garlic, olives, thyme
Panna e Prosciutto
Prosciutto, neutral cream, parmesan, garlic, basil
Pecorino
Zucchini, pecorino cheese, neutral cream, salt, olives, spices
Pollo Curry arachidi - Chicken with curry and peanuts
Chicken, curry, peanuts, neutral cream
Pollo e pesto
Salt, pesto sauce, spices, chicken fillet, neutral cream, garlic
Salads
450g
Salad Pesto di Pollo
Salt, chicken fillet, lettuce, rocket, cherry tomato, olive oil, balsamico, olives, dresing. 450g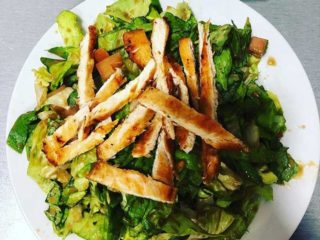 Caprese salad
350g, mozzarella, tomato, salt, olive oil, basil, olives.
Frutti Di Mare salad
Lettuce, arugula, tomato, seafood, olives
Greek salad
Tomato, cucumber, pepper, feta cheese, olive oil, salt, oregano
Vitamin salad
Lettuce, cabbage white, red cabbage, carrot, apple, celery, lemon juice, sesame
Risotto
Risotto Delicata
Chicken fillet, salt, spices, spinach, neutral cream, garlic, dill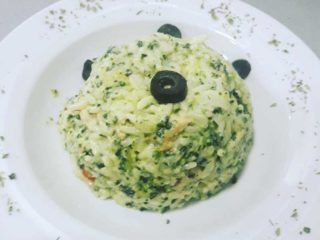 Risotto Arrabiata
Chili pepper, peeled tomato, salt, spices, onion, eggplant, tomato, garlic, olives, zucchini, peppers
Risotto with grilled vegetables
Paprika, eggplant, broccoli, zucchini, mushrooms
Risotto with chicken
Chicken fillet, cherry tomato, onion, mushrooms, neutral cream, mustard, thyme, salt
Breakfast
Breakfast is valid until 11: 30h!
Meals
Chicken in a sauce of 4 cheeses
Neutral sour cream, french fries or rice, salad (lettuce, cabbage), bun.
Chicken with sauce
Mushrooms, neutral cream, french fries or rice, salad (lettuce, cabbage), bun.
Grilled mushrooms 250g + rice 150g
Potage
Sandwiches
Club sandwich
Chicken fillet, bacon, ham, toast, lettuce, tomato, egg, french fries.
Sandwich turkey
Turkey fillet, tomato, sour cream, cucumber, bun.
Sandwich prosciutto
Prosciutto, rocket, mozzarella, bun.
Tuna Sandwich
Tuna, onion, tomato, lettuce, bun.
Savory crepes
Sweet crepes
Squeezed juices
Želite da pojedete kvalitetnu hranu po najvišim standardima, Paste i Salate je restoran za Vas. Njihove paste, sendviči, salate, rižota su pravi izbor.

Morate probati Paste i Salate Funghi ili Panna e Prosciutto pastu, Cornelia  ili Pesto di Pollo salatu, rižoto Arabiata ili rižoto Delicata, posle samo prvog zalogaja postaće Vam svakodnevna navika.

Poručite online, Paste i Salate dostava hrane će Vam isporučiti hranu u što kraćem vremenskom periodu, bilo da ste kod kuće ili na poslu.
×
If your location is not listed, please choose another restaurant.
×
Paste i Salate Centar