▼ EXPAND ALL
▲ COLLAPSE ALL
Grill
Stuffed chicken drumstick
Ham, kulen and cheese, 250 grams
Stuffed chicken breasts
Ham, kulen and cheese, 250 grams
Specialties
Larg Leskovacki train
1.400 kg. 2 x small gourmand,cevapi, chicken breasts, friters, drumstick, sausage, smoked neck, skewer, fries, 4 buns, cabbage, urnebes
Small Leskovacki train
950 grams. Small gourmand pljeskavica, cevapi, chicken breasts, sausage, smoked neck, kabob, fries, 2 buns, onion, cabbage, urnebes
Mixed meats
1 kg, Drumstick, pork skewer, sausage, cevapi, friters, smoked neck
Grill KG
Order buns separatelly
Leskovachki ustipci
Hot grinded pepper, pepper, garlic, cheese, bacon.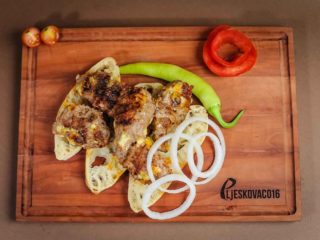 Fried food
Other tasty things
Condiments
Sauces
Soft drinks
×
If your location is not listed, please choose another restaurant.
×
Pljeskovac 016
Support and phone ordering
0606122200
Choose a restaurant
When you select your location, you will see a list of restaurants which deliver food in your area with appropriate minimum amounts and costs of delivery.
Order food online
Choose a restaurant by cuisine or minimum amount. Add to cart your favorite food and write as your special requests. Enter your address so the deliverer can find you easily.
Food is delivered, enjoy!
After submitting the order, you will see the estimated delivery time. Enjoy your food and write a review!
2020. © Alideda All rights reserved.
0606122200
Phone ordering