Rustikana dostava hrane Obrenovac

Cara Lazara 1

Card on mobile POS

Online

Delivery

Takeaway
Breakfast
Country breakfast
3eggs, graves, sirloin steak, feta cheese, kajmak, cornbread.
Sataraš breakfast
Baked vegetables in tomato sauce with feta cheese and eggs.
Serbian breakfast
3 eggs, homemade potatoes, dough fritters, sausage with cheese, bacon, cow cheese, kajmak, ajvar.
Rustikana breakfast
Integral bread, onion, melted cheese, ham, eggs.
Fritters
Prosciutto, kajmak, ajvar, cheese.
Omelete
3 eggs omelete, additions by request.
Scrambled eggs
3 eggs in portion, additions by request.
Fried eggs
3 eggs, additions by request.
Sandwiches and tortillas
Calzone
Sour cream, peeled tomato, ham, cheese.
Tuna tortilla
Fasting sauce, cucumber, tuna, tomato, iceberg, rocket, pickles, red pepper, onion.
Rustikana sandwich
Prosciutto, cheese, tomato, lettuce, caesar dressing.
Pulled pork sandwich
Marinated pulled pork in crispy bun with coleslaw salad and spiced potatoes.
Appetizers
Fried olives
Olives with tartar and sweet chilli sauce.
Fried rustika
Mozzarella sticks, fried onion, fried celery.
Carpaccio
200g. Aged sliced ​​beef with parmesan cheese, mixed salad, balsamic dressing.
Main dishes
Crispy chicken burger
Crispy chicken burger with gorgonzola sauce and fried onions.
Marinated chicken wings
Served with baked or mashed potatoes.
Chicken drumsticks in teriyaki sauce
Chicken drumsticks with sesame on aromatized potatoes.
Our burger
100% beef meat, lettuce, cheddar, tomato, pickles, crispy bacon, crispy onion, burger sauce.
Beef cutlet
Beef cutlet on mashed potatoes.
Beef rumsteak
Aged beef rampsteak with grilled vegetables, served with grilled vegetables or potatoes.
Marinated pork neck
Pork neck with potatoes.
Pljeskavica on kajmak
Served with onion and fries.
Smoked pork thigh
250g. Baked pork thigh, baked potatoes, kajmak and parmesan sauce.
Chicken roll
Stuffed chicken fillet in 3 types of cheese sauce, rolled with bacon, spiced mashed potatoes, spinach sauce.
↗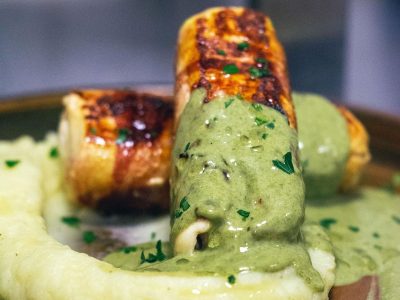 Grilled chicken fillet
Served with grilled vegetables.
Stuffed pork steak
250g. Pork steak stuffed with cheese and prosciutoo with potatoes and sauce.
↗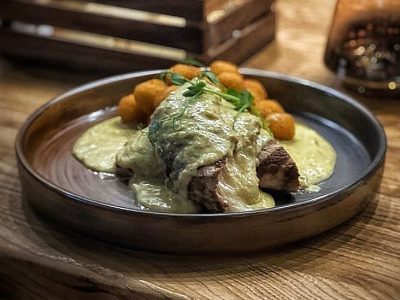 Bavarian knee
300g. Pork knee cooked in beer with herbal, croquettes, horseradish, sauce.
↗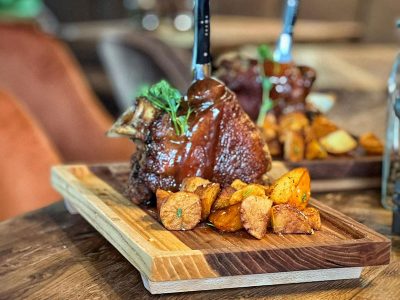 Rolled chicken fillet
Fries, mushrooms sauce.
Marinated ribs
Pork ribs in bbq sauce with baked potatoes.
Pork fillet tagliatta
Slow marinated pork fillet, baked cherry tomato, crispy potatoes, thyme, mushrooms sauce.
Fish
Fried squids
250g. With dalmatian stew or fries.
Grilled squids
250g. With dalmatian stew or fries.
Perch fillet
Perch fillet, grilled vegetables, marinade, lemon.
Smoked trout
Smoked trout fillet with dalmatian stew.
Salmon in parchment
Salmon fille in parhment with vegetables.
Cooked meals
Baked sauerkraut
With beef and dried meat.
Beef goulash
300g. Beef, mashed potatos.
Pasta and risotto
Tagliatelle with chicken and dried tomato
Tagliatelle in creamy chicken sauce, dried tomato, parmesan, butter, leek.
Piquant tagliatelle
Piquant tagliatelle in red sauce with vegetables and pork meat.
Risotto with pork fillet
Zucchini, paprika, cherry tomato, parmesan, garlic.
Pasta with salmon
Zucchini, thyme, salmon, pelled tomato, white sauce or tomato sauce in lean version.
Spaghetti with prawns
Prawns, cherry tomato, leek, zucchini, creamy sauce.
Fasting risotto
Vegetables, pelled tomato.
Gratin gnocchi with 4 type of cheese
250g. Gnocchi, chicken fillet, mozzarella, cheese, gorgonzola, parmesan.
Carbonara pasta
250g. Crispy bacon in creamy sauce with parmesan.
Tagliatelle with beefsteak
Mushrooms, beefsteak, thyme, creamy sauce, parmesan.
Risotto with chicken
200g. Creamy risotto with mushrooms, thyme, chicken.
Meal salads
300g.
Tuna salad
Lettuce mix, tuna, fasting dressing.
Beefsteak salad
Aged pieces of beef in Provencal spices, cherry tomatoes, mustard dressing.
Caesar salad
Lettuce mix, crispy bacon, chicken, cherry tomato, caesar dressing.
Salads
Mixed brine
Carrtos, cauliflower, cucumber, paprika, green tomato.
Sauerkraut with crashed pepper
Sopska salad
200g. Tomato, cucumber, onion, cheese.
Vitamine salad
200g. Iceberg, rocket, apple, carrot, beetroot, cherry tomato.
Rocket with cherry tomato salad
Side dishes
Croquettes
250g. Potatoes croquettes.
Grilled vegetables
300g. Red and green pepper, cherry tomato, eggplant, zucchini, mushrooms, potatoes.
Bread
4 slice in portion.
Desserts
Rice pudding with cinnamon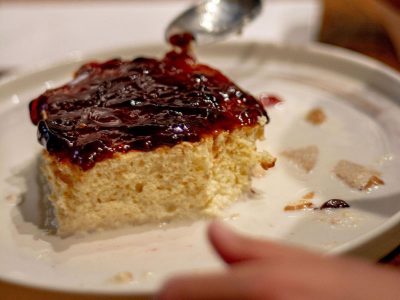 Grill, Cooked meals, Pasta, Chicken, Fish and sea food, Desserts
Restaurant address:
Cara Lazara 1, Obrenovac
Delivery 08:00 until 21:45
Takeaway 08:00 until 21:45
| | | |
| --- | --- | --- |
| Working hours | Delivery | Takeaway |
| Monday | 08:00 until 21:45 | 08:00 until 21:45 |
| Tuesday | 08:00 until 21:45 | 08:00 until 21:45 |
| Wednesday | 08:00 until 21:45 | 08:00 until 21:45 |
| Thursday | 08:00 until 21:45 | 08:00 until 21:45 |
| Friday | 08:00 until 21:45 | 08:00 until 21:45 |
| Saturday | 08:00 until 21:45 | 08:00 until 21:45 |
| Sunday | closed | closed |
×
Rustikana Obrenovac

+ add new address
Registered users can save addresses.
Enter address for delivery
If your address is not listed, click here.
Enter address for delivery
Login witn your phone number
Login with your email