Palmira Toljatija 2a, Belgrade

Delivery:
08:00 until 19:30
Grill, National food, Cooked meals, Pasta, Breakfast, Chicken, Sandwiches
Salaš 011 food delivery Belgrade
| | | |
| --- | --- | --- |
| Working hours | Delivery | Takeaway |
| Monday | 08:00 until 19:30 | 08:00 until 17:30 |
| Tuesday | 08:00 until 19:30 | 08:00 until 17:30 |
| Wednesday | 08:00 until 19:30 | 08:00 until 17:30 |
| Thursday | 08:00 until 19:30 | 08:00 until 17:30 |
| Friday | 08:00 until 19:30 | 08:00 until 17:30 |
| Saturday | 08:00 until 17:30 | 08:00 until 17:30 |
| Sunday | 24:00 until 24:00 | 08:00 until 17:30 |
▼ EXPAND ALL
▲ COLLAPSE ALL
Breakfast with eggs
Sosin omelet
Omelet with three eggs with ham, carrot, zuchinni, mushrooms, paprika, cheese. Tomato, cucumber and young cheese as side dishes. Served with two buns.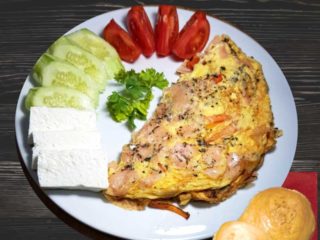 Grannys breakfast
French toast, cream cheese spread, tomato, cucumber,cheese and two kaiser.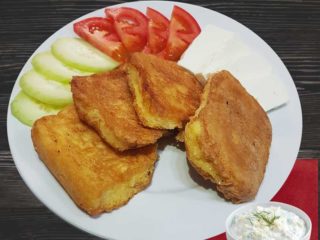 Breakfast Serbian peasant
Omelet of three eggs and three slices of smoking sausages with mustard, tomato, cucumber, cheese and two kaiser.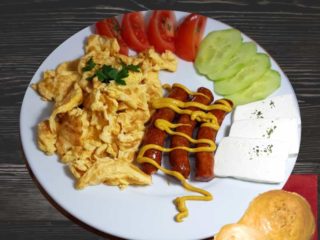 High protein breakfast
Four egg whites omelet with broccoli, mushrooms and chicken white meat and two fresh kaiser.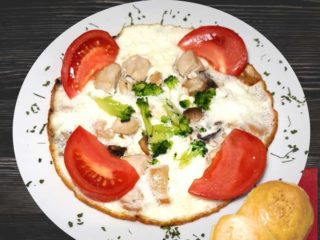 Tortillas and sandwiches
Fasting tortilla with tuna
Domestic tortilla, lettuce mix, corn, beans, tomato, tuna, spices.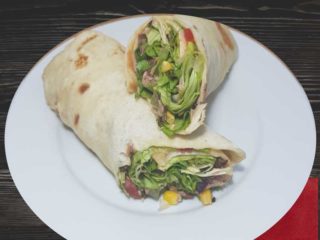 Tortilla Caesar
Fresh homemade tortillas prepared without additives, stuffed with Caesar salad, chicken breast, lettuce, pancetta, tomato, cheese, Caesar dressing.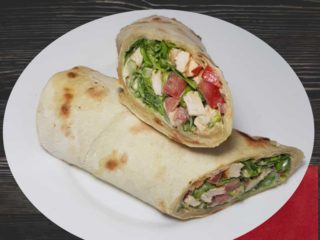 Capricciosa tortilla
Fresh homemade tortillas prepared without additives, ham, cheese, mushrooms, peeled tomato, oregano.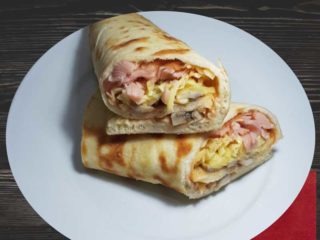 Burgers Salas 011
Two burgers. Kabobs meat, cheese, bacon pancetta, Caesar dressing, tomato, lettuce. Served with French fries and ketchup.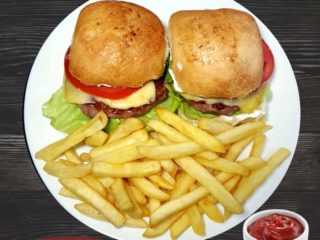 Chicken sandwich
Two sandwiches. Grilled chicken white meat, pancetta, cheese, Caesar dressing, green salad, tomato. Served with french fries and ketchup on the side.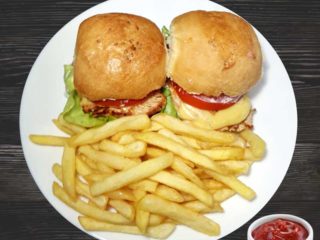 Fishburgers with french fries
Fasting. Portion included two sandwiches. Fish burger, tartar sauce, lettuce, tomato, ketchup on the side.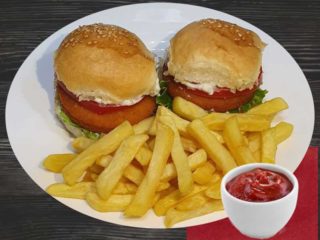 Broth and and cooked meals
Main meals
Risotto and pasta
Offer per kilo
Grilled smoked sausages kg
Roled chicken white in bacon kg
Spanish fingers with french fries kg
Breaded chicken white meat with sesame seed, pan fried.
Cabbage salad kg
Cabbage, vinegar, olive oil, salt.
Vitamin salad kg
Lettuce, cabagge, tomato, cucumber, olive oil, salt.
Additions
Grilled vegetables
200g Zucchini, carrots, pepper, mushrooms, basel, sesame seeds, spices.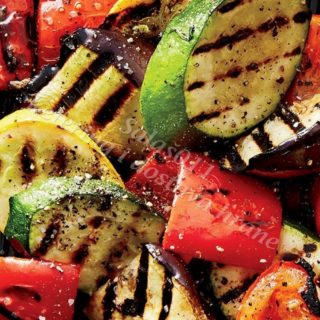 Meal salads
Sport meal salad
Grilled chicken with mushrooms in soy sauce, lettuce mix, cheese, tomato, croutons, broccoli, carrot, celery, spices.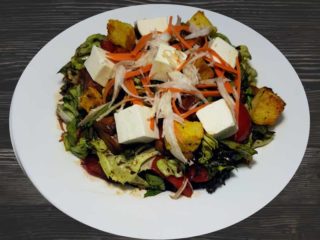 Salads
Dessert
Homemade pie nutela and forrest fruits
Homemade pie nutela and plazma
Homemade pie vanilla and cherry
Drinks
Salaš 011 nudi odličan izbor kuvane hrane za Vas. Dostavu hrane obavljaju na teritoriji Novog Beograda i Zemuna radnim danima od 08h do 14:30h.
I zaista kod njih možete pronaći kompletnu ponudu, od doručka do večere, i ono što je najupečatljivije je da insistiraju na domaćoj, sveže pripremljenoj, kuvanoj hrani. A od izbora što bi rekli svašta, razne vrste kajgana, pasti, kuvanih jela, tortilja, sendviča, rižota, roštilja, slatkiša, u svakom smislu kompletan obrok za Vas, Vašu porodicu ili zaposlene.
Ponuda se razlikuje na dnevnom nivou u zavisnosti od toga koja glavna jela kuvari tog dana spremaju. Svakako ono što je na dnevnom meniju možete pogledati u jelniku na ovoj strani.
Odaberite šta želite danas da probate iz njihovog menija i vrlo lako, online putem poručite hranu.
Prijatno!
×
If your location is not listed, please choose another restaurant.
×
Salaš 011