Taste of Tuscany food delivery Belgrade
Pizza, Gyros, Pasta, Breakfast, Crepes, Italian food, Chicken, Sandwiches, Fried food, Desserts
Enter address for delivery
| | | |
| --- | --- | --- |
| Working hours | Delivery | Takeaway |
| Monday | - | - |
| Tuesday | - | - |
| Wednesday | - | - |
| Thursday | - | - |
| Friday | closed | closed |
| Saturday | - | - |
| Sunday | - | - |
Specialties
Toscana chicken
300g. Grilled chicken fillet with mozzarella, french fries, salad
Grilled chicken fillet
300g. Grilled chicken fillet with grilled vegetables, french fries
Fried chicken fillet
300g. Chicken file, white sauce, cheese, salad
Fried cheese
300g. Cheese, tartar sauce, salad
Fried mushrooms
300g. Ham, cheese, parmesan, salad
Fried squid
300g. Squid, mayonnaise, salad
Chicken in white wine
300g. Chicken in sauce, boiled vegetables, feta cheese, white wine
Giros
300g. Giros meat, tortilla, french fries, tomato, cucumber, red onion, sauce
Karadjordjeva steak
300g. Chicken fillet stuffed with ham and cheese, mayonnaise, salad, lemon
Tuscany pljeskavitsa
2 pieces. Minced meat, salad, french fries
Tuscany kabobs
10 pieces. Sarajevski kabob, salad, french fries
Tuscany drumstick
2 pieces. Chicken drumstick, gorgonzola sauce, salad, french fries
Pizza
Margherita
Peeled tomato, cheese, olives, oregano
Funghi
Mushrooms, peeled tomato, cheese, olives, oregano
Vesuvio
Peeled tomato, cheese, ham, olives, oregano ↗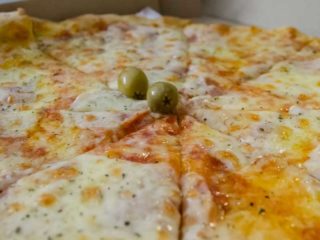 Vegetarian
Mushrooms, peeled tomato, cheese, mixed vegetables, olives, oregano. Fasting
Capricciosa
Peeled tomato, cheese, ham, mushrooms, olives, oregano
Quattro Stagione

Peeled tomato, cheese, ham, mushrooms, eggs, kulen, olives, oregano ↗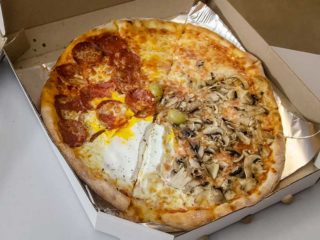 Quattro Formaggio
Peeled tomato, cheese, gorgonzola, parmesan, smoked cheese, olives, oregano
Siciliana Hot

Stuffed crust - hot mix, peeled tomato, cheese, pancetta, kulen, chili, pepperoni, sour cream, olives, oregano
Tuscany Speciale

Peeled tomato, cheese, prosciutto, kulen, egg, gorgonzola, pepper, tomato, olives, oregano ↗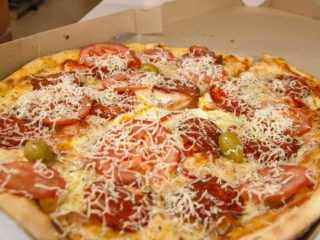 Vojvodjanka Hot

Peeled tomato, cheese, ham, kulen, pancetta, eggs, chili, pepperoni, spice, sour cream, olives ↗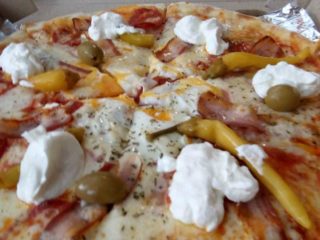 Fruta Dolcce
Euro cream, banana, pineapple, cherry, kiwi, walnuts
Fruti di Mare
Peeled tomato, seafood, cheese, oregano
Chicken pizza
Sour cream, chicken, cheese, bacon, tomato, pepper, olives, oregano
Giros pizza
Smoked chicken fillet, cheese, curry, mustard, feta, tomato, tzatziki sauce, French fries, oregano, olives
Tuna pizza
Peeled tomato, low-fat cheese, tuna, mushrooms, olives, oregano. Fasting
Carpe Diem
Peeled tomato, cheese, prosciutto, kaymak, mushrooms, oregano, olives
Cool pizza
Peeled tomato, low-fat cheese, grilled vegetables. Fasting
Hot pizza
Peeled tomato, cheese, mushrooms, eggs, minced meat, chili, pepperoni, olives, oregano
Terra Mia
Peeled tomato, cheese, ham, prosciutto, egg, parmesan, tomato, olives, oregano, arugula ↗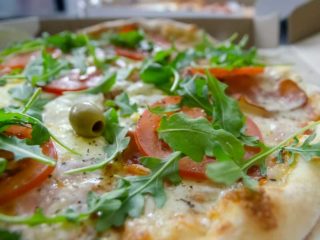 Pasta
Pasta Vegan
Peeled tomato, tomato, pepper, zucchini, onion. Fasting
Pasta Tuscany Special
Neutral sour cream, prosciutto, smoked ham, white wine
Pasta Milanese
Ham, mushrooms, ketchup, parmesan, cheese
Pasta Bolognese
Peeled tomato, Bolognese sauce, parmesan, cheese
Pasta Carbonara
Neutral sour cream, ham, pancetta, yolk, garlic
Pasta Quattro Cheese
Neutral sour cream, cheese, smoked cheese, parmesan, gorgonzola
Pasta Chicken
Neutral sour cream, chicken, pancetta, cheese
Pasta Doner
Neutral sour cream, veal, doner sauce, cheese, White wine
Pasta Pesto
Neutral sour cream, chicken, pesto sauce, cheese, parmesan
Risotto
Risotto with vegetables
Peeled tomato, rice, tomato, zucchini, onion, pepper
Risotto with chicken and curry
Sour cream, rice, chicken, curry
Risotto with seafood
Peeled tomato, rice, onion, seafood
Italian specialties
Piroshki
500g. 2 pieces in portion. Ham, cheese, sour cream, ketchup, mushrooms, olives
Lasagna
500g. Bolognese sauce, bechamel sauce
Italian bagel

900г. Peeled tomato, ham, kulen, bacon, cheese, mushrooms, feta
Sandwiches
Ham sandwich
Ham, cheese, lettuce, pepper, tomato, egg
Pechenitsa sandwich
Pechenitsa, cheese, lettuce, pepper, tomato, egg
Kulen sandwich
Kulen, cheese, lettuce, pepper, tomato, egg
Smoked ham sandwich
Smoked ham, cheese, lettuce, pepper, tomato, egg
Tuna sandwich
Tuna, low-fat mayonnaise, lettuce. Fasting
Chicken sandwich
Chicken file, cheese, lettuce, tomatoes
Vojvodjanski sandwich

Kaymak, smoked ham, kulen, egg, tomato, lettuce
Tzatziki sandwich
Smoked chicken, pepper, cucumber, tzatziki sauce, french fries
Tuscany sandwich
Prosciutto, gorgonzola, tomato, spread, lettuce, egg
Salads
Shopska salad
Tomatoes, onion, cucumber, pepper, feta
Serbian salad
Tomatoes, onion, cucumber, pepper
Caesar salad
Chicken, pancetta, croutons, lettuce, parmesan
Greek salad
Feta, lettuce, tomato, pepper, cucumber, onion, olives
Fruit Salad
Seasonal fruit with whipped cream
Chicken salad
Chicken, lettuce, tomato, cucumber, dressing
Tuna salad
Tuna, onion, tomato, cucumber, lemon, olives. Fasting
Other
Savory crepes
2 pieces.
Pancakes pechenitsa, cheese, sour cream
Pancakes kulen, cheese, sour cream

Pancake smoked ham, cheese, sour cream
Pancakes prosciutto , cheese, sour cream
Pancakes ham, cheese, sour cream
Sweet crepes
Dessert
Taste of Tuscany je restoran italijanske kuhinje sa širokom ponudom jela pripremljenih po originalnoj italijanskoj recepturi.  Kako biste i Vi uživali u ovim specijalitetima omogućena je dostava hrane Beograd - italijanski restoran Taste of Toscany dostava. Sasvim je nebitno da li Vam je potrebna dostava hrane Novi Beograd, dostava italijanske hrane Zemun ili dostava italijanske hrane Stari grad mi ćemo se pobrinuti da italijanski specijaliteti stignu do Vas.
U sklopu našeg jelovnika je bogata ponuda pasti, rižota i pica, kao i fenomenalne lazanje. Dostava pice sa preukusnim, bogatim nadevima - u ponudi imamo preko 20 ukusa i pice pravimo u različitim veličinama, a preporučujemo da probate nesvakidašnje sa dodacima voća, plodova mora. Dostava vegetarijanske pice i dostava posne hrane je takođe omogućena u našem restoranu.
Iako smo resotoran italijanske kuhinje, osluškujemo Vaše potrebe i želje, zato smo od komšija Francuza pozajmili recept za palačinke, za sve sladokusce. Ukusna i mirisna hrana prigodna za poslovni ručak, porodična okupljanja, druženja sa prijateljima ili za romantičnu večeru. Na Vama je da uživate, a pripremu hrane prepustite nama.
Dovoljno je samo da odaberete iz jelovnika, poručite i sačekate da hrana stigne na željenu adresu. Svakodnevna dostava italijanske hrane Beograd od 15h, pa sve do 04h iza ponoći, jer mislimo i na one koji vole da prezalogaje nešto u sitne sate. Naruči hranu online i uživaj! Prijatno!
×
If your location is not listed, please choose another restaurant.

rsd
×
Taste of Tuscany

Choose your address for delivery
Enter address for delivery
If your address is not listed, click here
Enter address for delivery