Online payment
takeaway
45 min.
Pasta, Italian food, Healthy food, Chicken, Internacional cuisine, Vegetarian food
Delivery 08:00 until 17:45
Takeaway 08:00 until 17:45
Trpezarija salad bar food delivery Belgrade
Miročka 6, Belgrade
0606122200
For delivery areas: Centar-Stari Grad, Dorćol, Dušanovac, Palilula-Centar, Savski Venac and Vračar, the price of delivery is 250din. For other areas, delivery costs are increasing. Please choose your part of the city!
Meal salads - Chicken
Parmesan salad
400gr. Chicken, cucumber, parmesan leaf, lettuce, pesto rosso, dried tomato, olive oil.
Potato salad
600gr. Chicken, potatoes, mushrooms, feta cheese, boiled eggs, onions, lettuce, sour cream, balsamico.
Rocket salad
450gr. Chicken, rocket, croutons, mozzarella, tomato, lettuce, balsamico dressing.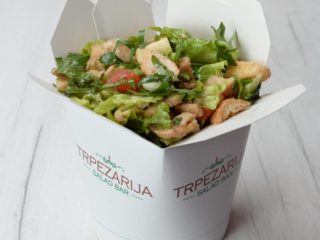 Peanuts salad
500gr. Chicken, peanuts, feta cheese, pasta, pineapple, lettuce, peanuts butter dressing.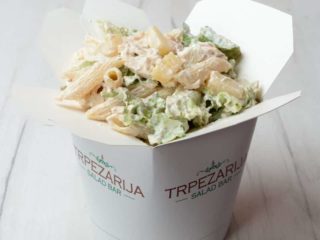 Smoked chicken salad
500gr. Smoked chicken, pasta, cheese, carrots, pickles, lettuce, prunes, dressing.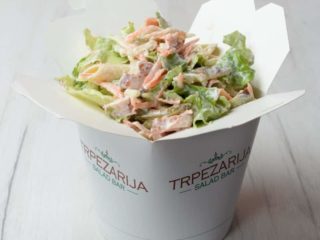 Popeye chicken salad
500gr. Chicken, spinach, tomato, boiled egg, croutons, feta cheese, Caesar dressing.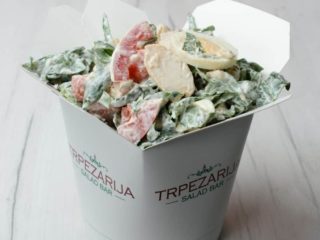 Tzatziki salad
500gr. Chicken, feta cheese, boiled egg, cucumber, potato, lettuce, tzatziki dressing.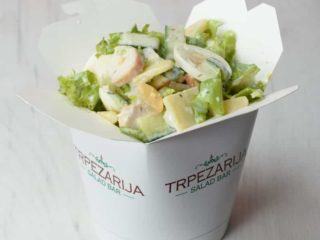 Meal salads - Beef
Sweet chili salad
450gr. Young beef, carrot, croutons, mushrooms, corn, lettuce, sweet chili dressing.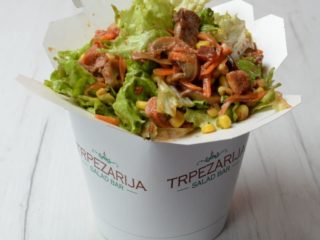 Beef - Been salad
450gr. Young beef, red beans, croutons, pickles, carrot, lettuce, provencale dressing.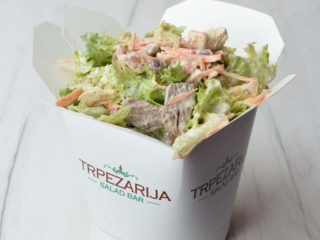 June Popaye salad
550gr. Young beef, spinach, pasta, boiled egg, feta cheese, pickles, tomato dressing.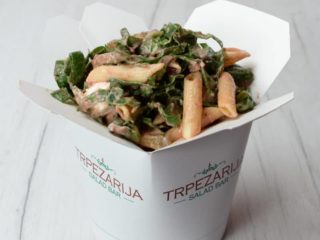 Meal salads - Fish/Vege
Mackerel salad
500gr. Mackerel, pasta, carrot, pickled cucumber, corn, lettuce, tomatoes, dressing.
Vege salad
450gr. Cucumber, tomato, pasta, olives, parsley, lettuce, dressing, dried tomatoes.
Tuna garden salad
400gr. Fasting. Tuna, lettuce, carrot, cabbage, corn, parsley, paprika, vinegret dressing.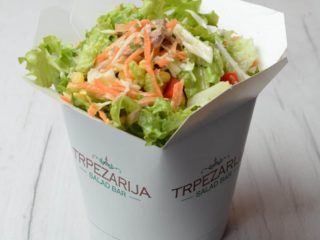 Trout salad
450gr. Fasting. Smoked trout, potato, carrot, broccoli, onion, olive oil, lettuce.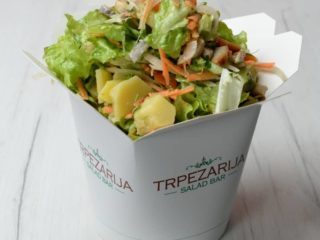 Vitaminoza salad
400gr. Fasting. Cabbage, carrot, honey, lettuce, apples, beetroot, lemon, olive oil, parsley.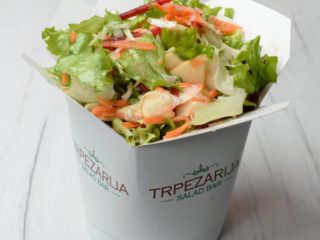 And something else
Greek salad
500gr. Tomato, cucumber, pepper, onion, olives, feta cheese, oregano, olive oil.
Diet salad
450gr. Smoked tofu cheese, humus, fresh urma, mushrooms, lettuce, baked sesame, olive oil.
Prosciutto salad
400gr. Prosciutto, tomato, parmesan leaf, cap, cucumber, lettuce, balsamic, olive oil.
3 cheese salad
400gr. Feta cheese, mozzarella, cheese, cranberry, dried tomato, croutons, lettuce, dressing, dried tomato
Rolo - Chicken
Rollo smoked chicken
250gr. Smoked chicken, tortilla, cheese, carrot, lettuce, dressing prunes.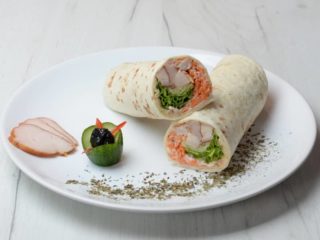 Rollo Genovese
300 gr. Chicken, tortilla, tomato, carrot, lettuce, genovese dressing.
Rollo - Other
Rolo vege
250gr. Fasting. Smoked Tofu cheese, tortilla, carrot, lettuce, fasting spread, mushrooms.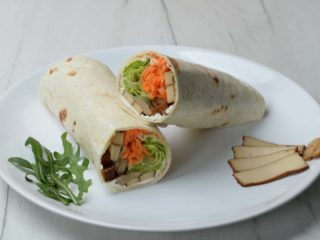 Omelet
Jumbo 2 omelet in tortilla
400gr. 3 eggs, feta cheese, cheese, mozzarella, gorgonzola, lettuce.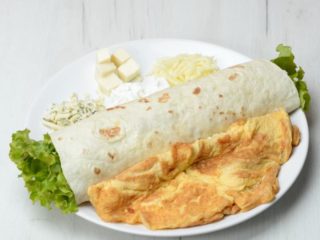 Jumbo omelet in tortilla
400gr. 3 eggs, ham, feta cheese, kulen, sour cream, pickles, lettuce.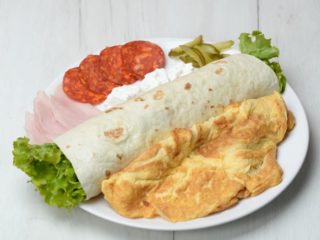 Hot dishes - Pasta
Smoked pan
550gr. Smoked chicken, pasta, mushrooms, carrot, feta cheese, pickles, tomato sauce.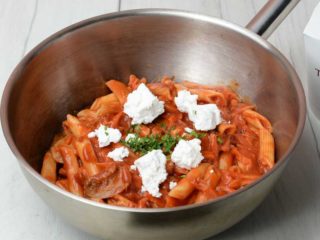 Hot dishes - Gnocchi
Curry gnocchi
600gr. Gnocchi, chicken, broccoli, carrot, sour cream, curry sauce.
Veggie gnocchi
600gr. Zucchini, gnocchi, carrot, corn, mushrooms, spinach, olives, tomato sauce.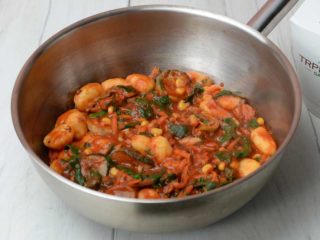 Cold pasta
Dessert
Trpezarija Salad Bar Beograd je sasvim originalno mesto smešteno ispod malog Taša, bazirano na velikom izboru obrok salata. U ponudi su takođe i različite vrste omleta, rolovi (tortilje) uz različite vrste dresinga, čorba dana, topla jela pod originalnim nazivom tiganjče, kao novitet "njoke", hladne paste, kao i originalni slatkiši. Sve se sprema na licu mesta!

Trpezarija Salad Bar meni sadrzi 14 salata, dok se u sezoni proleće/leto ima 20 različitih salata u ponudi. Sve salate Trpezarija Salad Bara su obrok salate, i stvarno tako mislimo jer su sve porcije izuzetno velike.

Trpezarija Salad Bar jelovnik ne nudi samo salate, tu se moze naći i opširna ponuda doručka, užina, ručka, večere. Kombinacije salata su sa piletinom, junetinom, dimljenom piletinom, pastrmkom, tunom, sa pastom, krutonia ii palentom, a raznolikost dresinga staviće vas u ozbiljan rebus pri prvom odabiru.

Sve salate, topla jela, rolovi i omlei spremaju se po porudzbini, fantastičan sklop namirnica, raznovrsnosti dresinga i sastojaka učiniće da sa slašću pojedete celu porciju, a posle toga Trpezarija Salad Bar postaće vaša svakodnevna navika. Trpezarija Salad Bar dostava hrane omogućava vam da u njihovim peukusnim salatama uzivate kod kuce ili na poslu. Zato poručite online što pre i uverite se i sami zato su najbolji.
×
If your location is not listed, please choose another restaurant.
rsd
×
Trpezarija salad bar
Support and phone ordering
0606122200
Choose a restaurant
When you select your location, you will see a list of restaurants which deliver food in your area with appropriate minimum amounts and costs of delivery.
Order food online
Choose a restaurant by cuisine or minimum amount. Add to cart your favorite food and write as your special requests. Enter your address so the deliverer can find you easily.
Food is delivered, enjoy!
After submitting the order, you will see the estimated delivery time. Enjoy your food and write a review!
For restaurants
List your restaurant on this portal FOR FREE. Alideda creates websites for food delivery, provides the ordering system for your websites or Facebook pages, takes care about your marketing campaigns. Call us!
Terms of sale
2020. © Alideda All rights reserved.
0606122200
Phone ordering