Dobri Dim food delivery Novi Sad
Dimitrija Tucovića 3/1, Novi Sad
Restaurant is open from 24:00 until 24:00
Grill, National food, Alcoholic beverages
Dobri Dim food delivery Novi Sad
▼ EXPAND ALL
▲ COLLAPSE ALL
Sandwiches
Small sandwich - 100g meat, big - 150g meat.
Beef neck big sandwich
150g of meat, two sauces, two salads of choice in fresh flatbread.
Meal
Vitamin pork
Meal salad of 120g meat, fresh fruits and vegetables (apples, young onions, corn, lettuce, etc.).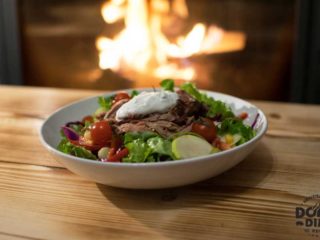 Meat kg
Cold side dish
150g is recommended with meals, 500g with meat per kg.
Creamy potatoes
Potatoes, sour cream, yoghurt, red onions, fresh spices.
Good baked beans
Beans, onion, bay leaf, salt, pepper.
Salads
120g is recommended with meals, 400g with meat per kg.
Seasonal
Lettuce, arugula, onion, radish
Homemade cucumber
fresh cucumber, sour cream, garlic
Coleslaw
Cabbage, carrot, apple, sour cream, mayonnaise, mustard.
Corn
Corn, mint, salt, vinegar.
Sauces
Champignon sauce
mushrooms, neutral sour cream, red wine, garlic
Drakaris sauce
various hot peppers, very very hot
Home BBQ sauce
White and black onion, ketchup, yellow sugar, honey, lemon juice.
Mustard BBQ sauce
Mustard, honey, garlic, apple vinegar.
Our sour cream
Sour cream, lemon, coriander.
Enriched mayonnaise
Mayonnaise, garlic, mustard.
Drinks
Knjaz Milos carbonated water
Beer
Wine
Cider
Za ljubitelje dobrih mesnih specijaliteta preporučujemo restoran Dobri Dim, mesto gde se hrana priprema na jedan inovativan, drugačiji način a gde je doživljaj ukusa poseban i nesvakidašnji. Dobri Dim Novi Sad specijalizovan je za pripremu fantastične hrane od mesa na američki način. Vaše omiljene oborke možete naručiti online a Dobri Dim dostava je za vas tu, svakoga dana osim nedelje, koja će se pobrinuti da hrana stigne brzo, ukusna i topla.
Američki način pripreme zasniva se na dimljenju mesa na drvetu jabuke i višnje a ako do sada niste probali ništo slično ovo je prilika koja se ne propušta. Dobri Dim obroci sačinjeni su od najkvalitetnije junetine i svinjetine a služe se uz prilog, salatu i sos po izboru. Juneći vrat i kidana svinjetina u vidu obroka ili sendviča pružiće vam potpuno novo iskustvo kada je odabir hrane u pitanju. Takođe ove mesne specijalitete možete naručiti online na kilo i tako prirediti poseban ugođaj za članove porodice ili goste.
Dobri Dim dostava Novi Sad pored mesnih obroka i sendviča u dve veličine nude i hladne priloge kao što su kremasti krompir sa svežim začinskim biljem i dobri prebranac. Uz svaki obrok preporuka je ukusna salata od svežeg povrća a njihovi sosevi su zaista potpuno unikatni i jedinstveni jer se savršeno slažu uz svaki obrok a pripremaju se ručno po specijalnoj recepturi.
O svim ukusima koji nastaju u restoranu Dobri Dim Novi Sad mogli bismo da napišemo pravi gurmanski roman. Ali kako bi sa reči prešli na delo predlažemo da poručite online vaše omiljene specijalitete. Dovoljan je samo jedan klik da vreme koje bi utrošili na kuvanje utrošite na uživanje u svakom zalogaju. Sigurni smo da je Dobri Dim dostava Novi Sad pravi izbor za vas, zato naručite online i uživajte.
×
If your location is not listed, please choose another restaurant.
×
Dobri Dim