| | | |
| --- | --- | --- |
| Working hours | Delivery | Takeaway |
| Monday | 09:00 until 19:00 | 09:00 until 19:00 |
| Tuesday | 09:00 until 19:00 | 09:00 until 19:00 |
| Wednesday | 09:00 until 19:00 | 09:00 until 19:00 |
| Thursday | 09:00 until 19:00 | 09:00 until 19:00 |
| Friday | 09:00 until 19:00 | 09:00 until 19:00 |
| Saturday | 09:00 until 19:00 | 09:00 until 19:00 |
| Sunday | 09:00 until 19:00 | 09:00 until 19:00 |
▼ EXPAND ALL
▲ COLLAPSE ALL
Combo special offer
Family lunch
In a box. Mixed meat 1kg, cabbage, onion, cucumber, lettuce, urnebes, beet root, French fries 500g, 4 buns, Coca Cola 1.5L.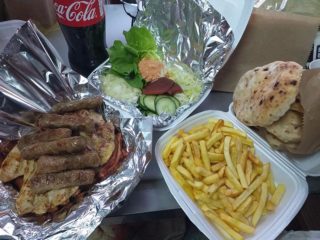 Special offer
Gurmanluk in the bun
Gurmanluk per kilo
Mixed meat 1 kilogram
Chicken drumstick, sausages, smoked veshalitza, cevapi, chicken fillet.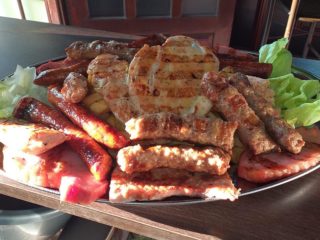 Other
Drinks
Beers
×
If your location is not listed, please choose another restaurant.
×
Gurman roštilj iz Leskovac

Restaurant is open from 17:00 until 04:30 | Laze Telečkog 20, Novi Sad
Expected time : 45 minutes | Minimum amount for delivery : 120 rsd
Grill, National food, Chicken, Alcoholic beverages
Choose a restaurant
When you select your location, you will see a list of restaurants which deliver food in your area with appropriate minimum amounts and costs of delivery.
Order food online
Choose a restaurant by cuisine or minimum amount. Add to cart your favorite food and write as your special requests. Enter your address so the deliverer can find you easily.
Food is delivered, enjoy!
After submitting the order, you will see the estimated delivery time. Enjoy your food and write a review!
2020. © Alideda All rights reserved.