Online payment
takeaway
45 min.
Grill, National food, Cooked meals, Breakfast, Crepes, Chicken, Burgers, Sandwiches, Fish and sea food, Fried food, Restaurants, Desserts, Vegetarian food
Delivery 09:00 until 23:00
Takeaway 09:00 until 23:00
Gusan food delivery Novi Sad
Zmaj Jovina 4, Novi Sad
0606122200
Cooked meals
Side dish cabbage salad and bread.
Smoked neck with stewed vegetables and mashed potato
Baked steak with mashed potato
Meat in sauce with mashed potato
Baked beans without sausage
Grill
Bread.
Knuckle
Grilled boiled knuckle, boiled potato or French fries, horseradish. Amount you will pay can slightly vary because it depends on weight of knuckle, which can be below 600 grams or more than 600 grams. About 1g.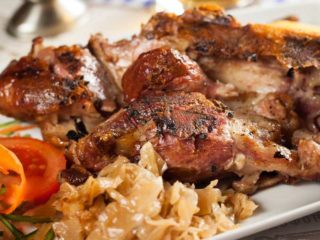 Stuffed grilled chicken with French fries
Grilled chicken breast stuffed with pecenica and cheese, 300g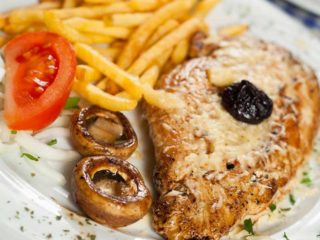 Mixed meat with French fries
Pljeskavica, vesalica, three pork kabob, three cevapa, one sausage, bacon, 450g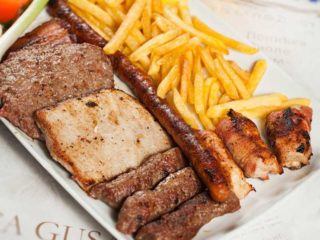 Stuffed pljeskavica with French fries
Pljeskavica stuffed with cheese and bacon, French fries, 300g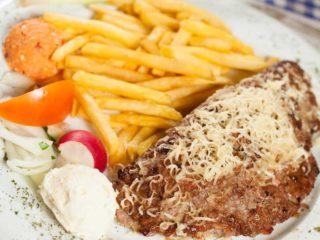 Smoked neck with French fries
Chicken liver rolled in bacon with French fries
Chicken with spinach and feta cheese with French fries
Grilled chicken breasts stuffed with spinach and feta cheese, 250g
Ribs on the grill
The price is per kilo and grammage can vary, and accordingly the price.
Pork fillet with French fries
Pork fillet with spicy potato
Zmaj Jova steak with French fries
Shredded pork stuffed with roasted paprika, cheese, mushrooms and pickles, 250g
Meal with meat
Bread.
Novi Sad chicken
Grilled chicken breast, pecenica, cheese, mushroom sauce, French fries, 300g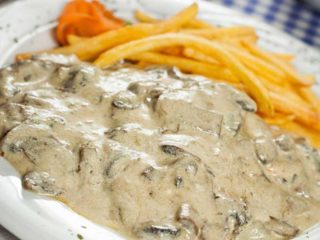 Chicken liver with spiced potato
Burgers and sandwich
Pecenica and kajmak in Bavaria roll bun
Chicken in Bavaria roll bun
Pljeskavica in bun with cheese
Tortilla with chicken
Chicken breast, mushrooms, beans, French fries.
Soups and broth
Chicken soup with noodles
Fish
Bread.
Trout
The price is per kilo and grammage can vary, and accordingly the price. Fish weight is about 300g. Roasted trout, marinade, side dish.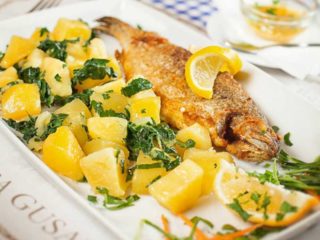 Perch fillet with boiled potato
Grilled squids
Grilled squid, marinade, 250g
Meatless meals
Bread.
Veg burger with French fries
Burger based on potato and vegetables with mushroom sauce, 250g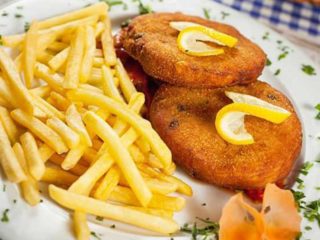 Meal salad
About 300g.
Tuna salad
Tuna, maccaroni, fresh vegetables, olives, parmesan.
Salads
Colorful salad
Lettuce, tomato, cabbage, carrot, cucumber, 200g
Mediterranean salad
Tomato, rocket, parmesan, red onion, 200g
Beetroot with horseradish
Gusan salad
Baked paprika, eggplant, feta cheese, 200g
Side dishes
Dessert
Veliki izbor raznovrsnih jela i obroka za Novosađane na jednom mestu, restoran Gusan Zmaj Jovina 4 Novi Sad je pravo mesto gde možete da naručite kompletan obrok, od glavnih jela, roštilja, piletine, sendviča, burgera, palačinki, salata, posne i vegetarijanske hrane. Restoran Gusan vam nudi mnoštvo ukusnih jela u kojima ćete uživati.
Specijalitete od jela sa rostilja i jela od mesa kao sto su novosadska piletina, piletina u kari sosu sa pomfritom, slanina pečena na roštilju sa pomfritom, takođe i riblje specijalitete možete naći u meniju ovog restorana. Za korisnike koji pak žele nešto drugačije restoran Gusan nudi veliki izbor jela koja ne ukljucuju meso, obrok salata.
Dostava restoran Gusan pokriva ceo Novi Sad i na raspolaganju je tokom celog dana, a možete naručiti i vikendom. Kada vam je dosta kuhinje, tu je restoran Gusan dostava da poručite i da uživate u ukusnim gurmanlucima.
Ne oklevajte, ne kuvajte i ne tražite broj telefona već naručite vašu omiljenu hranu online putem a dostava restorana Gusan ubrzo stiže na vašu adresu da vam ugođaj za hranom učine potpunim. Uvek spremni restoran Gusan i dostava restorana.
×
If your location is not listed, please choose another restaurant.
rsd
×
Gusan
Support and phone ordering
0606122200
Choose a restaurant
When you select your location, you will see a list of restaurants which deliver food in your area with appropriate minimum amounts and costs of delivery.
Order food online
Choose a restaurant by cuisine or minimum amount. Add to cart your favorite food and write as your special requests. Enter your address so the deliverer can find you easily.
Food is delivered, enjoy!
After submitting the order, you will see the estimated delivery time. Enjoy your food and write a review!
For restaurants
List your restaurant on this portal FOR FREE. Alideda creates websites for food delivery, provides the ordering system for your websites or Facebook pages, takes care about your marketing campaigns. Call us!
Terms of sale
2020. © Alideda All rights reserved.
0606122200
Phone ordering