Milagro Restoran food delivery Kruševac

Cooked meals
Grill
Gourmet pljeskavica
Minced young beef meat, minced pork meat, onion, garlic, bacon, salt, pepper, hot pepper, oil.
Rolled veshalica
Veshalica rolled in bacon.
Mixed meat
Chicken breast, kabobs, pljeskavica, veshalica.
Breakfast
You can order until 12pm.
Milagro breakfast
Egg, cheese, paprika, sausage.
Omelette
Egg, ham, white cheese, cheese.
Omelette with bacon
3 eggs, bacon.
Omelette with ham
3 eggs, ham.
Pizza
Burgers and tortillas
Milagro burger
Homemade bun, young beef meat 200g, pecenica 50g, cheese 30g, french fries 50g, egg.
↗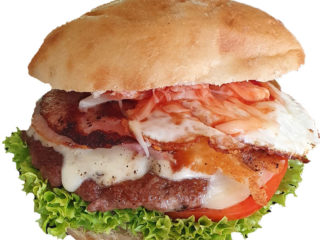 Tortilla chicken
Chicken fillet 150g, tortilla, french fries, sour cream.
Tortilla sandwich
Pecenica 150g, tortilla, ham, cheese, sour cream.
Fried meals
Viennese steak
Pork meat.
Karadjordjeva steak
Pork meat, cheese, bread crumbs.
Fish
Warm sandwiches
Milagro sandwich
Pecenica, mushrooms, cheese, tomato, sour cream.
Serbian sandwich
2 eggs, kajmak, bacon, pecenica.
Soups and broths
Meal salads
Caesar salad
Chicken, bacon, parmesan, toast bread, lettuce.
Milagro salad
Lettuce, prosciutto, cherry tomato, cheese, toast bread.
Salads
Baked paprika with garlic
Pancakes
Fried pancake with chicken
Fried pancake with prosciutto
Savory pancake
Pecenica, cheese, sour cream.
Sweet pancake
Cream, plazma biscuits.
Other
Bread
Pizza, Grill, National food, Cooked meals, Breakfast, Crepes, Chicken, Burgers, Sandwiches, Fish and sea food, Fried food
Restaurant address:
Vidovdanska 183, + external delivery, Kruševac
| | | |
| --- | --- | --- |
| Working hours | Delivery | Takeaway |
| Monday | 09:00 until 16:00 | 09:00 until 16:00 |
| Tuesday | 09:00 until 16:00 | 09:00 until 16:00 |
| Wednesday | 09:00 until 16:00 | 09:00 until 16:00 |
| Thursday | 09:00 until 16:00 | 09:00 until 16:00 |
| Friday | 09:00 until 16:00 | 09:00 until 16:00 |
| Saturday | 09:00 until 15:30 | 09:00 until 15:30 |
| Sunday | closed | closed |