Piccante food delivery Novi Sad
Pizza, Pasta, Italian food, Chicken, Fish and sea food, Restaurants, Desserts, Internacional cuisine, Vegetarian food

Bulevar Patrijarha Pavla 22, Novi Sad
Delivery 09:00 until 22:30
Takeaway 09:00 until 22:30
SHOW MAP
Online payment
takeaway
45 min.
Enter address for delivery
| | | |
| --- | --- | --- |
| Working hours | Delivery | Takeaway |
| Monday | 09:00 until 22:30 | 09:00 until 22:30 |
| Tuesday | 09:00 until 22:30 | 09:00 until 22:30 |
| Wednesday | 09:00 until 22:30 | 09:00 until 22:30 |
| Thursday | 09:00 until 22:30 | 09:00 until 22:30 |
| Friday | 09:00 until 22:30 | 09:00 until 22:30 |
| Saturday | 09:00 until 22:30 | 09:00 until 22:30 |
| Sunday | 09:00 until 22:30 | 09:00 until 22:30 |
Pizza
28cm/32cm.
Pesto pizza
Peeled tomato, cheese, prosciutto, mozzarella, paprika, pesto, sour cream. ↗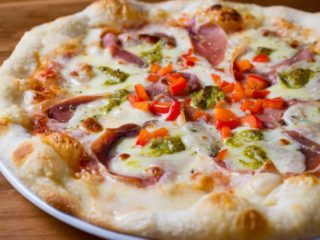 Chorizo pizza
Peeled tomato, grilled sausage, leek, mushrooms, cheddar cheese.
Garden Pizza
Peeled tomato, vegetable cheese, tomato, paprika, mushrooms, zucchini, broccoli, olives.
Calzone
Peeled tomato, cheese, ham, mushrooms.
Capricciosa
Peeled tomato, cheese, ham, mushrooms.
Madjarica

Dough, kulen, mushrooms, cheese, fefferoni, olives, peeled tomato, oregano.
Piccante pica

Peeled tomato, cheese, kulen, prosciutto, bacon, ham, rocket, olives, mushrooms, cherry tomato.
Quattro stagione
Peeled tomato, ham, prosciutto, corn, paprika, mushrooms, cheese.
Tuna pizza
Peeled tomato, tuna, tomato, paprika, olives, rocket, fasting cheese.
Pasta and risotto
Tagliatelle "Taccino gorgonzolato"
Tagliatelle, turkey, gorgonzola, sour cream, parmesan, soy sauce, primrose.
Tagliatelle with three types of mushrooms
Tagliatelle, porcini mushrooms, oyster mushrooms, champignons, white wine, parsley, garlic, parmesan, olive oil.
Pene "Piccante"
Penne, chicken, brie, spinach, cherry tomato, garlic, olive oil, parmesan.
Penne Arabiata with mozzarella
Penne, peeled tomato, onion, paprika, hot pepper, mozzarella, primrose.
Gnocchi with turkey and porcini mushrooms
Gnocchi with turkey in cream porcini mushrooms sauce, bacon, cherry tomato and parmesan.
Risotto with beefsteak and cheese
Arborio rice with pieces of beefsteak, cheddar cheese, onion and paprika, served with parmesan.
Risotto with chicken and vegetables
Arborio rice with chicken, onion, zucchini, paprika, mushrooms and soy sauce, served with rocket and parmesan.
Tagliatelle Sole Siciliano
Tagliatelle with chicken sauce, pine nuts, sour cream, peeled tomato, dried tomato, chili peppers served with parmesan.
Baked penne with chicken
Penne with chicken, sour cream, peeled tomato, mushrooms and cheese.
Seafood
Bread.
Spaghetti with tuna and anchovies
Spaghetti with fresh tuna and anchovy in napolten sauce with tomato, onion and olives.
Grilled sea bass fillet
Served with gnocchi and spinach.
Fish plate
Tatar salmon, sea bass confit, grilled prawns, olive and caper tapenade, bruschettas with tomato and onion.
Black risotto with prawns
Rice, ink cuttlefish, shrimp, red onion, tomato, garlic, white wine, lemon, primrose.
Grilled sea bream
Grilled bream with swiss chard, potato and Dalmatian marinade. ↗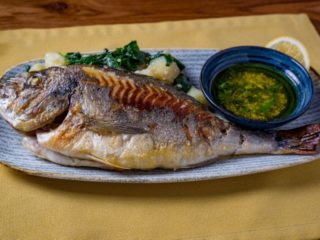 Grilled salmon with vegetables in capar sauce
Grilled salmon served with swiss chard, zucchini, carrots, paprika and lemon-capar sauce.
Penne with salmon
Penne in cream sauce with salmon, cream, garlic, cherry tomato, parmesan and parsley.
Rice with salmon and saffron
Risotto with salmon in cream and saffron sauce.
Spaghetti with seafood
Spaghetti with salmon, prawns and mussels, parsley, garlic and olive oil, cherry tomato.
Tuna steak in lemon sauce
Grilled tuna in lemon sauce served on vegetables mix.
Main dishes
Bread.
BBQ chicken
Served with risotto with black sesame and vegetables.
Pollo con spinaci
Baked chicken in spinach sauce with cheese and aromatized potato.
Marinated beef cutlet
Grilled beef cutlet with paprika, dollar chips and cheese sauce.
Panco chicken
Served on vegge tortilla and cheese sauce.
Lamb Caper lime burger
Lamb burger with salad, Caper lime dressing, served with paprika and sweet potato.
Fish burger
Tuna burger, salad, cocktail dressing, french fries.
Pork Chop
Pork chop, dollar chips, olive oil salsa, parsley and onion and goat cheese and roasted peppers salad.
Stuffed chicken Piccante
Chicken stuffed with spinach, cheddar and sun-dried tomatoes, mashed potatoes and broccoli, pepper sauce.
Grill plate
Pork chop, lamb burger, homemade sausage, beef kebabs, chimichuri salsa, kajmak, dijon mustard, dollar chips.
Baked veal fish
Veal fish, roasted peppers, hot peppers, bechamel and potatoes.
Kebabs
Beef kebabs, cream sauce, grilled onions, flavored potatoes.
Beef rosbratna Reserve
1kg. Dry aged beef rosbratna with chili mashed potato and griiled lemon. ↗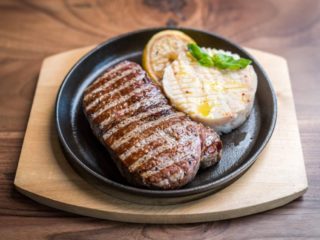 Beef Burger
Bun, minced beef meat, cheddar cheese, tomato, salad, pickles, mayonnaise, dill and onion, French fries.
Pork thigh Trieste
Smoked pork thigh without skin and bones baked with cheddar cheese and bechamel sauce, served with potatoes.
Chicken Burger
Finely sliced grilled chicken with onion and cheddar cheese in bun with tomato, lettuce and Caesar dressing, French fries.
Turkey with pasta Piccante
Turkey with pasta baked with sour cream, gorgonzola, cheese, egg and spices.
Turkey in almond and cranberry sauce
Grilled turkey in cream sauce with almond, cranberry, baked tomato, potato.
Double Bourboun Burger
Double young beef burger with soft bun, burbon dressing, fried mozzarella, red onion, iceberg salad, French fries.
Chicken confit in mustard sauce

Boiled chicken in dijon mustard sauce with spicy rice and vegetables.
Chicken Saltimbocca
Chicken with prosciutto and sage in and white wine and sour cream sauce, served with piquant potato.
Tartar beefsteak
Finely sliced beef fillet with mix of spices, served with toast, butter and egg yolk.
Teletina Piccante
Roast veal with homemade gnocchi in provansal sauce.
Beefsteak with homemade aromatic potato
Grilled beefsteak with aromatic potatoes.
Beefsteak in Piccante oil
Chopped beefsteak 300g on tagliatte with olive oil, herbs, aceto balsamico and lemon, side dish of your choice.
T-BONE steak
1kg. Dry aged t-bone steak with caliente salsa with paprika and onion.
Sauces
Salads
Salad vith grilled goat cheese
Mix lettuce with grilled goat cheese, caramelized beet, walnuts, pine nuts and mustard dressing.
Salad with grilled tuna
Mix lettuce with grilled tuna, cherry tomato, oyster mushrooms, yoghurt and lemon dressing.
Caesar salad
Mix of lettuce, grilled chicken, parmesan, bacon, eggs, tomato, caesar dressing (mayonnaise, pickles, anchovies and capers). ↗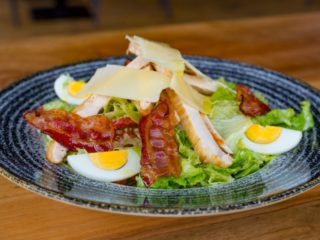 Salmon salad
Grilled salmon on mix lettuce with tomato, paprika, olives nad dressing (yogurt, lemon and olive oil). ↗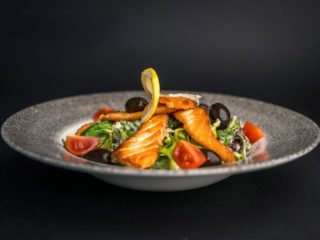 Greek salad
Feta cheese, tomato, cucumber, onion, olives, radich, lettuce, olive oil, oregano.
Mixed Piccante salad
Mix of lettuce, tomato, peppers, zucchini, hot peppers, olive oil, garlic and lemon.
Salad rocket, cherry, parmesan
Lettuce, rocket, cherry tomato, parmesan, aceto, olive oil.
Salad with turkey
Lettuce, paprika, tomato, grilled turkey, grilled eggplant, olive oil, sour cream, red pepper and walnuts.
Serbian traditional salad
Tomato, cucumber, garlic, paprika, salt, pepper, olive oil, aceto, feta cheese.
Serbian salad
Tomato, cucumber, purple onion, hot pepper, salt, pepper, olive oil.
Mixed salad
Tomato, cucumber, salt, pepper, olive oil.
Caprese salad
Tomato, mozzarella (dry).
Soups and pottage
Bread.
Chicken soup
Soup with homemade dumplings and vegetables.
Young beef ragu broth
Cream young beef broth with vegetables and sour cream.
Appetizer
Bruschette with salmon
Grilled salmon, tomato, onion, parsley and olive oil.
Piccante plate

Plate for two. Prosciutto, kulen, smoked neck, goat cheese, parmesan, bursan cheese, bruschetti with tomato and olives. ↗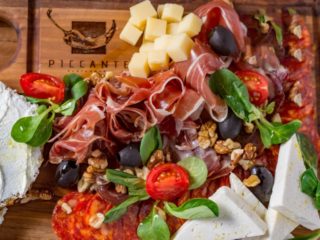 Chicken fingers with peanuts
Chicken filet, peanuts butter, sesame, sour cream, lettuce mix with cherry tomato. ↗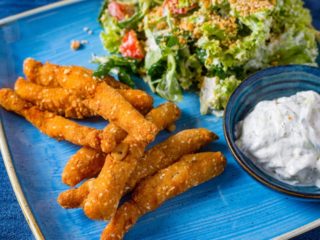 Bruschetti with tomato and garlic
Bruschette with olive oil, garlic and cherry tomato.
Bruschetti with tartar beefsteak
Tatar beefsteak, butter, baked Baguette.
Piccante starter
Home made bread, kajmak, greaves pate.
Cheese plate
Brie, gorgonzola, cheddar, goat cheese, parmesan, walnuts, olives.
Ricco tortilla
Tortilla, chicken, cheddar, brie, gouda, salad, chili, salsa yogurt.
Tacos with veal
Tortilla, veal fish, cheese, tomato, red onion, cucumber, lime.
Ratatouille with 4 types of cheese
Zucchini, peppers, eggplant, red onion, sour cream, gorgonzola, brie, parmesan, gouda.
Sweet potato puree in pumpkin sauce
Sweet potato puree with grilled zucchini in pumpkin seed sauce.
Breakfast
Brekafast can ordered until 12pm.
French toast stuffed with ham and cheese
Cream omelette with prosciutto
Oat with homemade yoghurt and seasonal fruit
Eggs with salmon on salad and toast
2 Eggs, salmon, toast, rocket, mix salad, cherry tomato, dressing (Sour cream, lemon, chili sauce). ↗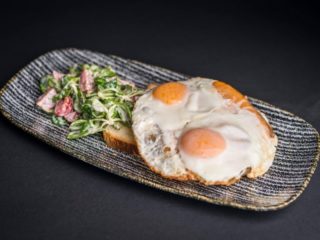 Bacon and eggs
3 eggs, bacon, sour cream, cherry tomato.
Frittata prosciutto and mozzarella
3 eggs, prosciutto, mozzarella, leek.
Scrambled eggs with ajvar and goat cheese
3 eggs, ajvar, white goat cheese, leek.
Omelet with vegetables
3 eggs, red onion, mushrooms, zucchini, paprika.
Piccante breakfast
2 eggs, bacon, homemade sausage, toast, cream cheese, grilled tomato.
Homemade sausage with scrambled eggs
Homemade sausage, eggs, rocket, mustard.
Guacamole with salmon and eggs
Avocado, tomato, red onion, salmon, rear eggs.
Sandwiches
Sandwiches can ordered until 12pm.
Baked sandwich with pork tight
Baked sandwich with pork tight, cheese, horseradish in bavarian roll bun. Side dish French fries and ketchup.
Brie and Prosciutto sandwich
Baked sandwich in Bavarian roll bun. Prosciutto, brie, egg yolk, gauda, onion, tomato, French fries.
Sandwich Piccante
Open sandwich on ciabatta. Young beef salad, mayonnaise, onion, cheddar cheese, tomato, salad, flavored potato.
Chicken sandwich
Ciabatta, grilled chicken, gauda, salad, pickles, dressing of sour cream, dill and soy sauce, French fries.
Sandwich ham, cheese
Ciabatta, ham, gauda, egg, pickles, salad, tomato, mayonnaise, French fries.
Tost Tower sandwich
Toast, egg, chicken, tomato, cheddar cheese, sour cream, pine nuts, French fries.
Tuna melt sandwich
Grilled tuna in soft bun with mayonnaise, rocket, cherry tomato and cheddar cheese and sour cream sauce, served with Dolar chips.
Sandwich with grilled vegetables
Blanket, avocado, zucchini, eggplant, tomato, red onion, paprika, lettuce, vegetable cheese, french fries, ketchup.
Combo sandwich

Homemade bun, smoked ham, cheese, kulen, tomato, iceberg lettuce, carrot, mayonnaise, red cabbage.
Desserts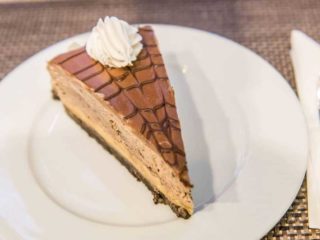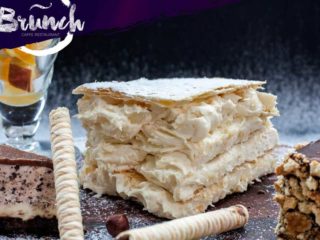 Piccante pancake
Mascarpone cheese, honey, almond, cognac sauce, maple syrup, sour cream, vanilla ice cream.
Schwarzwald pancake
Nutella, plazma cakes, cherry.
Chocolate pralina with orange
Cgocolate suffle
Vanilla ice cream, forest fruit sauce.
Choco-banana cake
Chocolate cake with whipped cream and cherry topping.
Drinks
Želite da uživate u jedinstvenim ukusima, da Vam se hrana prosto topi u ustima Piccante Novi Sad je pravi restoran za Vas. Bogat Piccante jelovnik zadovoljiće i najizbirljivije. Krenimo redom…
Piccante meni može da ponudi veliki izbor pica od standardne Kaprićoze preko Chicken chili pizza do pice kuće Piccante pica na čijem testu se nalazi pelat, sir, kulen, pršut, slanina, šunka, rukola, masline, šampinjoni, čeri paradajz. Ako nastavite da listate Piccante jelovnik možete naći paste i rižota zatim plodove mora, glavna jela od kojih su neka Biftek u ulju Piccante grilovan i seckan na taljatu u maslinovom ulju, sa začinskim biljem, aćetom i limunom i Butkica Diavolo zapečena ljuta butkica u crvenom sosu sa mocarelom, bosiljkom i domaćim krompirom.
Posle ukusnog jela želite i da se zasladite? Ništa ne brinite Piccante ima nešto super u ponudi čime ćete biti zadovoljni. Čokoladna pralina sa pomorandžom ili Palačinke sa jabukama, sladoledom i javorovim sirupom biće fantastičan završetak svakog obroka.
Nemojte puno da razmišljate, poručite online, za samo par klikova možete da uživate u ovoj božanstvenoj hrani bilo da se nalazite kod kuce ili na poslu. Piccante dostava hrane postaraće se da Vaša narudžbina bude kod Vas u zakazano vreme ili u što kraćem vremenskom periodu. Poručite online ukoliko želite da hranu preuzmete sami, Piccante radno vreme je od 09 do 22i30 svakog dana u nedelji.
×
If your location is not listed, please choose another restaurant.

rsd
×
Piccante


Restaurant is closed/paused on Alideda.
Choose your address for delivery
Enter address for delivery
If your address is not listed, click here
Enter address for delivery

Online payment
takeaway
Restaurant is open from 24:00 until 2400 | Cara Dusana 75, Novi Sad
Expected time : 45 minutes | Minimum amount for delivery : 300 rsd
Pizza, Pasta, Italian food, Chicken, Fish and sea food, Restaurants, Desserts, Internacional cuisine, Vegetarian food