National food, Cooked meals, Pasta, Breakfast, Italian food, Chicken, Fish and sea food, Desserts, Internacional cuisine
Delivery 10:00 until 23:00
Takeaway 10:00 until 23:00
Tribeca food delivery Belgrade
Kralja Petra 22, Belgrade
| | | |
| --- | --- | --- |
| Working hours | Delivery | Takeaway |
| Monday | 10:00 until 23:00 | 10:00 until 23:00 |
| Tuesday | 10:00 until 23:00 | 10:00 until 23:00 |
| Wednesday | 10:00 until 23:00 | 10:00 until 23:00 |
| Thursday | 10:00 until 23:00 | 10:00 until 23:00 |
| Friday | 10:00 until 23:00 | 10:00 until 23:00 |
| Saturday | 10:00 until 23:00 | 10:00 until 23:00 |
| Sunday | 10:00 until 21:00 | 10:00 until 21:00 |
Breakfast
Breakfast is served untill 12:30h.
Scrambled eggs (omelet) with vegetables and ham
Scrambled eggs (omelet) with vegetables and cheese
Scrambled eggs (omelet) with prosciutto (beef)
Scrambled eggs (omelet) with bacon
French toast with kajmak and ajvar
French toast with homemade marmelade
Tribeca sandwich
Homemade bun, ajvar, kajmak, beef prosciutto.
Caesar sandwich
Homemade bun, chicken, caesar dressing.
Vegetarian sandwich
Tortilla, cheese, vegetables.
Home-made cheese pie with sour milk
Cold starters
Beef prosciutto with domestic cheese and olives
Taste of Serbia for two
Ajvar, young cheese, kajmak, beef prosciutto, spicy salami.
Hot starters
Hot bruschetta with tomato, cheese and ham
Prunes with goat cheese in bacon
Fried peppers with cheese
Soups and pottages
Pasta and risotto
Pasta with tomatoes and vegetables
Tagliatelle with salmon and broccoli
Gnocchi with beef steak and porcini mushrooms
Main courses
Chicken fillet in porcini mushrooms
Turkey with mlinci and gorgonzola cheese
Rump steak with baked zucchini,smoked cheese and aromatic sauce
Serbian national meals
Craft sausage with potatoes
Lamb cevap with potatoes and kajmak
Beef shin simmered in own sauce with mashed potatoes and kajmak
Duck tagliata served with home onion chutney and pear
Smoked pork ribs with jacked potato and kajmak
Braised lamb
Soft pieces of lamb braised with vegetable and potato.
Venison stew with dumplings
Fish
Grilled calamari with mangold and potatoes
Sea bass with Swiss chard and potatoes
Tuna steak with rocket salad
Salmon steak grilled or boiled with boiled vegetables
Salads meals
Caesar salad
Mixed green salad with grilled chicken, parmesan, cherry tomato and caesar dressing.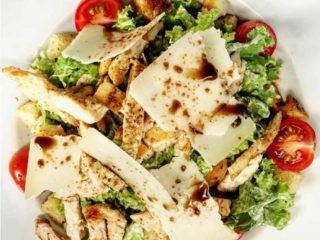 Salads
Sopska salad with feta cheese
Rocket salad with cherry tomatoes and parmesan
Desserts
Pancakes with white chocolate mousse and cherries
Pumpkin souffle with ice cream
Apple pie with vanilla cream
New York cheese cake with mascarpone cheese
Tribeca restoran nalazi se u Beogradu u samom centru grada. Restoran osim internacionalne kuhinje, vegetarijansih jela, neguje i našu tradiciju tj. srpsku kuhinju.
Veoma ukusna hrana, lepo servirana uz specifične detalje karateristika je ovog restorana. Ukoliko niste do sada, pravi je trenutak da uživate u ukusima kuhinje restorana Tribeca.
U svojoj ponudi osim jela kao što su Cezar salata, koju svi volimo, taljatele sa lososom i brokolijem, piletinu rolovanu pančetom, ćuretinu, posebno ističu biftek i to spremljen na više načina. Ponosno predstavljaju i domaće specijalitete, vegansku hranu kao i deserte kojima svakako možete zaokružiti kvalitetan i ukusan obrok.
Tribeca dostava Beograd za Vas funkcioniše svakog dana. Izaberite željenu hranu, poručite vrlo lako i jednostavno online putem i konzumirajte istu u toplini Vašeg doma sami ili u društvu.
Prijatno!
×
If your location is not listed, please choose another restaurant.
rsd
×
Tribeca
Choose a restaurant
When you select your location, you will see a list of restaurants which deliver food in your area with appropriate minimum amounts and costs of delivery.
Order food online
Choose a restaurant by cuisine or minimum amount. Add to cart your favorite food and write as your special requests. Enter your address so the deliverer can find you easily.
Food is delivered, enjoy!
After submitting the order, you will see the estimated delivery time. Enjoy your food and write a review!
For restaurants
List your restaurant on this portal FOR FREE. Alideda creates websites for food delivery, provides the ordering system for your websites or Facebook pages, takes care about your marketing campaigns. Call us!
Terms of sale
2020. © Alideda All rights reserved.