Enter your address to check the minimum amount and delivery price!
▼ EXPAND ALL
▲ COLLAPSE ALL
Doručak
Until 01PM.
Woker breakfast
Scrambled eggs with bacon, leek, kajmak and cheese baked in a bun with fresh salad.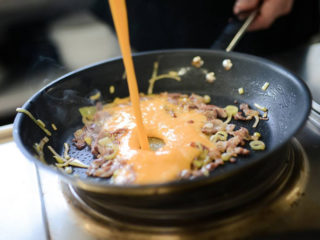 Veggie scrambled eggs
Scrambled eggs with vegetables and cheese, with miller and fresh salad.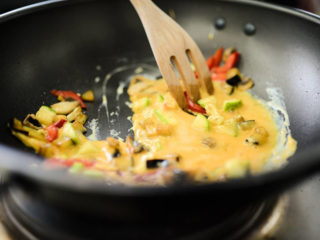 Fitness breakfast
Scrambled eggs with chicken, zucchini, spinach and cheese in a tortilla with spicy potatoes, miller and fresh salad.
Mini calzone
Calzona Mix
Petchenitza, kulen, ham, mushrooms and cheese with cream cheese, mayonnaise and ketchup in pizza dough.
Calzona Chicken
Chicken in curry sauce with cheese, sour cream and mayonnaise, in pizza dough with fries.
Calzona Butt
Smoked butt in cream sauce with cream and cheese in pizza dough.
Snacks
Pizza sticks with ketchup, oregano and parmesan with cheese sauce
Pizza sticks with garlic and rosemary
Chilly sesame sticks with hot sauce
Woker's chorba
Meal salad
Caesar salad
Mix lettuce with cherry tomatoes, Caesar dressing, croutons, bacon, chicken and Parmesan cheese.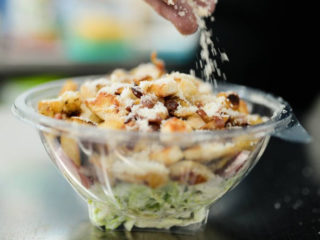 Tuna salad
Mix lettuce with tomatoes and peppers, tuna, corn, croutons and olives.
Pasta and risotto
350g
Chicken-pesto sauce
Chicken in basil sauce with broccoli and parmesan.
Carbonara sauce
Pancetta and garlic in neutral parmesan sauce.
Piccante sauce
Piquant sausage in red cream sauce with fresh and spicy paprika and parmesan.
Smoky sauce
Bacon, mushrooms in cream sauce with smoked cheese and parmesan.
Veggie sauce
Mix of vegetables in red sauce with fresh spices.
Woker's tortilla
450g.
Tortilla Carbonara
Chicken, bacon, parmesan sauce, cheese, potatoes
Gourmet Tortilla
Chicken, sausage, cheese, pepper, hot pepper, mushrooms, red besamel sauce, potatoes
Tortilla Pesto
Chicken, zucchini, broccoli, pesto sauce, cheese, potatoes
Tortilla Taquitos
Chicken, potatoes, woker dressing
Main dishes
Butt in a sauce of horseradish with lasagna
Smoked butt boned in cubes of horseradish sauce, baked with lasagna, gouda and parmesan.
Chipsy chicken
Chicken fillet fried in chips served with mashed potatoes and spinach sauce.
Aromatic chicken
Chicken fillet with aroma of smoked paprika, in a cream of rosemary sauce on a puree with dried tomatoes.
Penny bun chicken
Chicken fillet with porcini mushrooms and fresh spinach in cream sauce with gnocchi and roasted sesame.
Dessert
Oreo waffle
Waffle with Oreo cream, ice cream and chocolate crumbs.
Rafaelo waffle
Waffle with Rafaelo cream, ice cream and chocolate crumbs.
Potrebna Vam je najbolja dostava hrane Novi Sad? Onda je Woker Food dostava odličan izbor. Kućna dostava hrane Novi Sad – naručite doručak, ručak ili večeru i sačekajte da preukusna hrana stigne do Vas.
Ponuda je raznovrsna, uživaćete šta god da odaberete. Ukusne čorbice, paste i rižota, začinjeni krompirići, tortilje, obrok salate sve za dostavu i sve od pažljivo biranih namirnica. Uvek sveže jer svakodnevno pripremamo za Vas.
Za sve ljubitelje jaja u neobičnim kombinacijama imamo u ponudi kajgane na više načina. Nama se dopadaju bolonjeze, spanać i vege, a Vi odaberite svoj omiljeni ukus. Stoga, ukoliko Vam je potreban proteinski doručak i kućna dostava hrane Novi Sad neka Vaša asocijacija bude Woker Food dostava hrane Novi Sad.
Nakon obroka se zasladite preukusnim palačinkama – Wokerčinkama. Odaberite idealnu kombinaciju i uz opciju naruči hranu online, u par klikova, veoma lako i u rekordnom roku hrana stiže do stana. Prijatno!
×
If your location is not listed, please choose another restaurant.
×
Woker Food
Support and phone ordering
0606122200