Thai Zone food delivery Belgrade
NEW

Jurija Gagarina 14d, Belgrade
Restaurant is open until 22:00
Healthy food, Chicken, Restaurants, Desserts, Internacional cuisine, Asian food, Vegetarian food
Thai Zone food delivery Belgrade
Restaurant is closed.
▼ EXPAND ALL
▲ COLLAPSE ALL
Pork
Bamboo pork
Mild spicy pork with plenty of vegetables and fresh bamboo.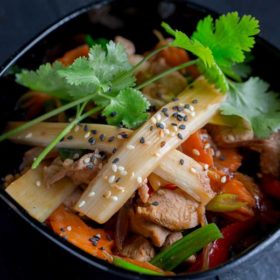 Peanuts pork
Juicy pork with peanut ginger flavor and lots of fresh vegetables.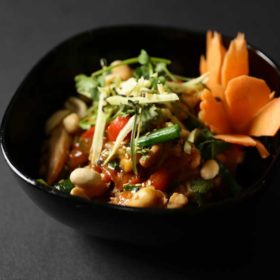 Pork fillet with broccoli
Soft pork with young onion, paprika, carrots and broccoli.
Jungle pork
Spicy pork with lots of vegetables in curry sauce and Thai cauldron, spice plants and lemongras.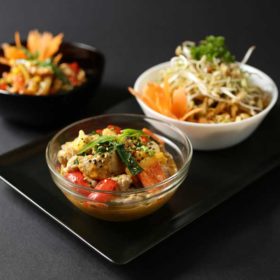 Chicken
Royal peanuts chicken
Chicken with gingerbread, ground peanuts and fresh vegetables.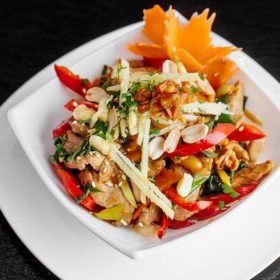 Chicken with broccoli
Healthy and energetic meal with chicken, paprika, carrots and broccoli in Thai Zone sauce.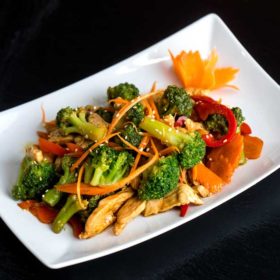 Chicken teriyaki
Sweet-sour chicken in teriyaki sauce.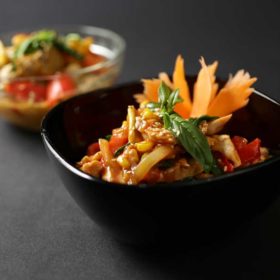 Chili chicken
Chicken with chilli and fresh basil.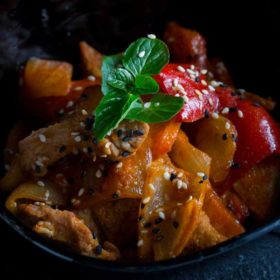 Coconut chicken
Coconut milk and chicken with fresh basil, zucchini, peppers and corn.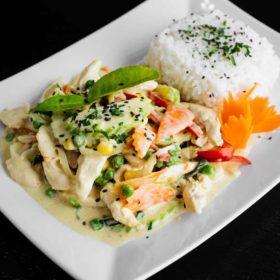 Curry chicken
A mixture of vegetables and chicken with basil in coconut milk and Thai spices.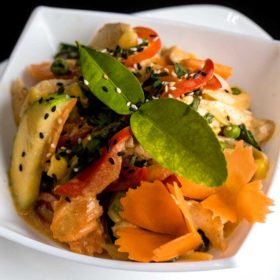 Pad Thai
Traditional dish. Rice noodles with chicken, pork, tofu or scampi.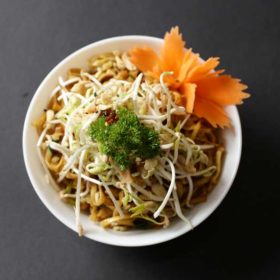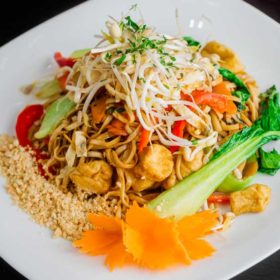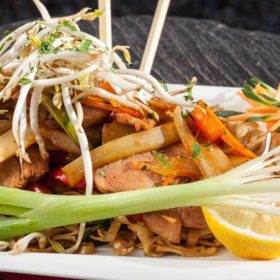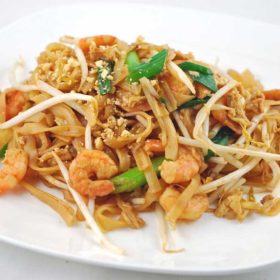 Khao Pad
Traditional dish. Fried Jasmine rice in combination with chicken, pork, tofu or scampi.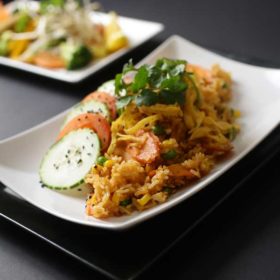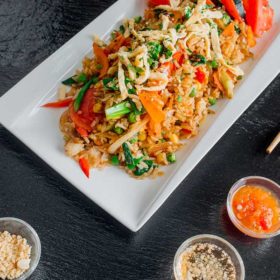 Thai Zone Premium
Thai salmon burger
Salmon burger with homemade vitamin thai salad and special dressing.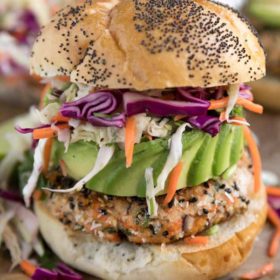 Drunk noodles with a beef
Pieces of beef in a special sauce with dried chilli, basil and ground peanuts.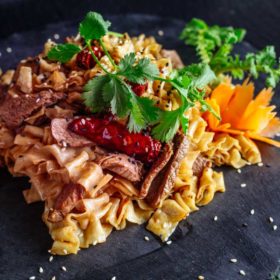 Grilled Thai chicken
Grilled, marinated sauce mango sauce, homemade peanut sauce with the addition of vitamin salad and rice jasmine rice.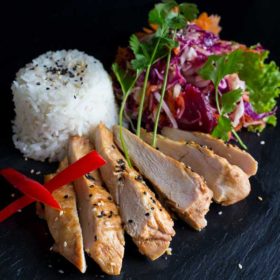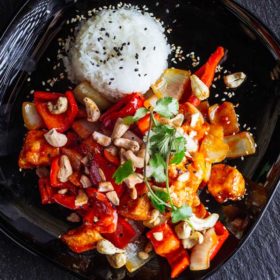 Grilled salmon with cooked vegetables
Grilled salmon salmon 200g with broccoli, kar fi olom, carrots and Thai herbs.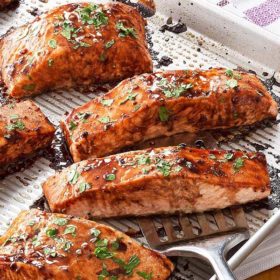 Gambori in sweet-sour sauce
With plenty of vegetables and jasmine rice.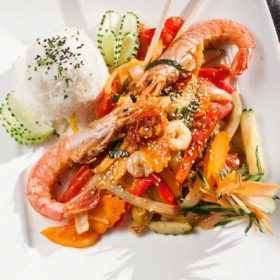 Spicy salmon in red curry sauce
Losos fillet 200g, mildly spicy in a creamy coconut milk sauce with fresh basil, vegetables, foliage and jasmine rice.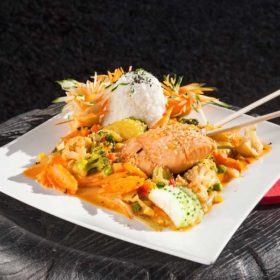 Rollers
Soup
Healthy soup
With tofu cheese, ginger, celery and various detox vegetables.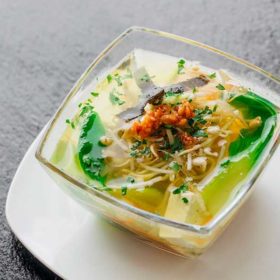 Chicken soup with noodles
Ena's homemade soup with rice noodles, chicken and fresh vegetables.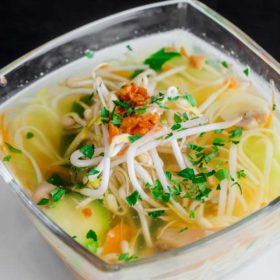 Khao Tom
Chicken soup rich in rice, prepared in traditional Thai way.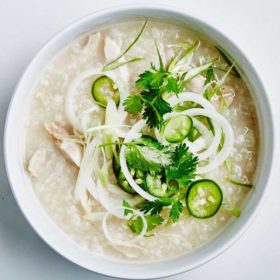 Tom Yam
Famous Thai whey-soup with chicken, scampi and exotic spices.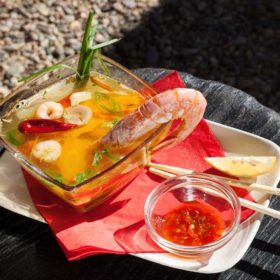 Tom Kha
Shrimps, chicken and vegetables cooked in coconut milk.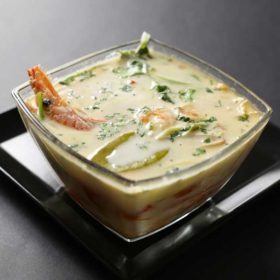 Salads
Yam Wun Sen salad
Spicy, sour, sweet salad with crystalline noodles, chicken and prawns in lemon juice, also known as Crystal salad .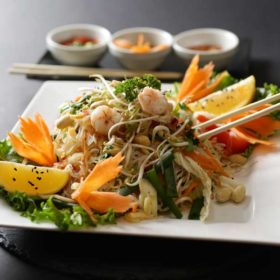 Pure Vitamin salad
Beet, carrot, white and purple cabbage, sesame oil, cranberry, dry grapes and seeds.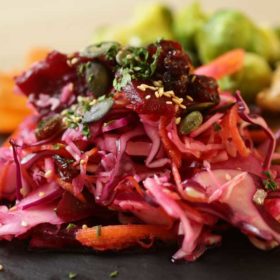 Som Tam
Sweet and sour salad with homemade chilli sauce, plenty of lemon juice and peanuts.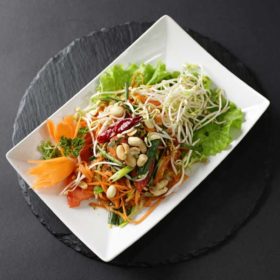 Mango salad with chicken
Sweet-sour salad with chicken, Indian walnut, aysberg salad, mint and onions, in lime juice.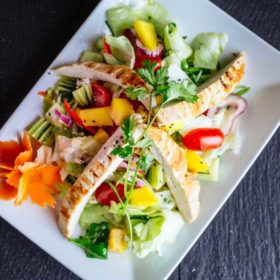 Waterfall beef salad
With a beef, cherry tomato, mint, peanuts, rock and ayberg salad.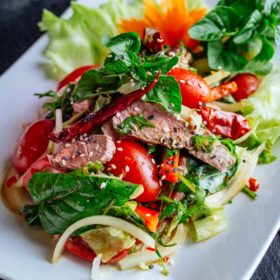 Veggie meal
Tofu fusion with rice
Ginger, paprika, celer, zucchini, mushrooms, broccoli, baby corn, pumpkin.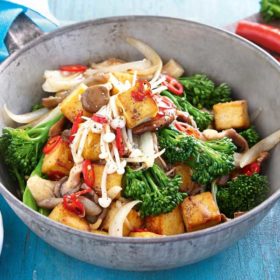 Side dish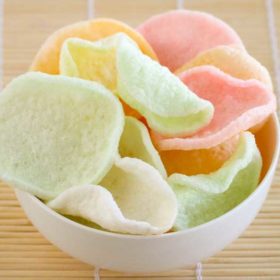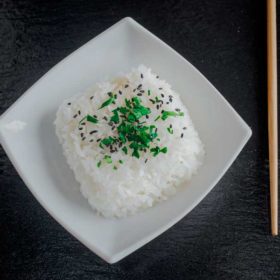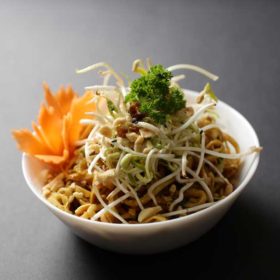 Mixed vegetables (veggie)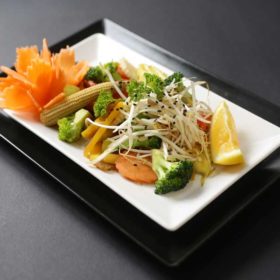 Dessert
Tapi pudding
Flavored pudding with coconut milk, sweet corn and pearly beads of tapioca.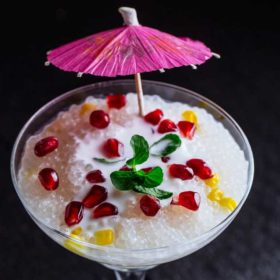 Sweet rice in coconut milk and mango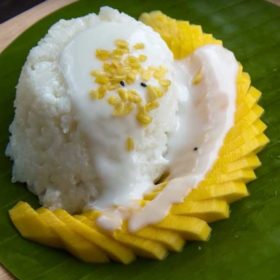 Zbog velikog raspona jela kao i zbog raznolikosti i svežine namirnica, tajlandska kuhinja se smatra jednom od najboljih svetskih kuhinja. Ono po čemu je još prepoznatljiva je aromatičnost i pikantnost koja dominira u gotovo svim jelima. Specifičnost ove kuhinje je i da tajlandska jela predstavljaju ravnotežu između četiri ukusa – slatko, kiselo, slano i ljuto.
Restoran Thai Zone u Belvilu priprema upravo ovakva, autentična jela i to po recepturi šefa kuhinje koji dolazi baš iz ove tropske zemlje. U pripremi se koriste najkvalitetniji sastojci i začini uvezeni direktno sa Tajlanda: galanga, korijander, limunska trava, đumbir, bosiljak, sok od lajma, zeleni i crveni kari, kokosovo mleko i mnogi drugi.
U okviru menija ovog restorana možete pronaći čuvena jela poput Tom Yam supe, Som Tam salate, Pad Thai i Khao Pad i to po originalnoj recepturi. Takođe, osim jela sa svinjetinom i piletinom možete poručiti i specijalitete sa lososom, ali i vegetarijanske obroke. Ono što preporučujemo posle ukusnog obroka je i desert, puding od tapioka ili slatki pirinač u kokosovom mleku sa mangom.
Dostava tajlandske hrane iz restorana Thai Zone obavlja se svakodnevno. Odaberite i poručite željenu hranu vrlo lako i uživajte u ovim specijalitetima u svom domu ili kancelariji.
Prijatno!
×
If your location is not listed, please choose another restaurant.
×
Thai Zone